Sutherland Acoustic presents Mic Conway

7.30pm, Thursday 12th December 2013
By Jenny Watson
Posted Wednesday, October 2, 2013
Hi everyone!
Saw Mic Conway at Kangaroo Valley and was truly impressed with his antics and style - just wonderful and so different. Hope you can make this concert it is going to be very special.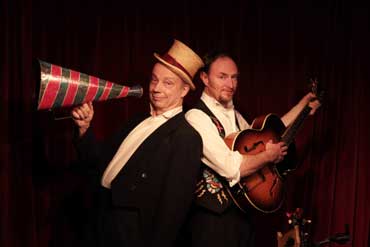 Mic Conway with Robbie Long - Stripped back, irreverent and shameless, Mic Conway takes the stage with Australian Flat Pick Guitar Champion Robbie Long, playing unusual and idiosyncratic tunes that will make your jaw drop, toes tap and sides split. In a circus of comedy, magic and music they will delight audiences with something new, something old and something in between. From the duo's debut album, "Street of Dreams", Conway croons covers of "Winchester Cathedral" and "It's Only a Paper Moon", dispenses good advice ("Never Bite a Married Woman on the Thigh") and revisits Captain Matchbox's biggest hit, "My Canary Has Circles Under His Eyes" (which turns 40 this year). There's still magic, juggling, cavorting and that trademark tongue-in-cheek sense of humour, but this incarnation is also Mic as storyteller - of tall tales and true. It's surreal vaudeville for crooning and swooning.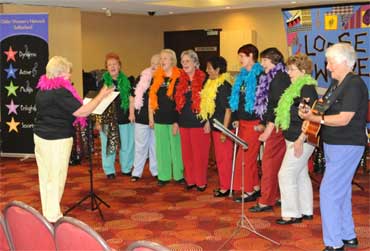 Also we have the incredible DAMES - an older women's performance group showing that women of all ages can be entertaining, funny and enjoy themselves while occasionally informing the community on things important to them and others.
All in all it is going to be a night you shouldn't miss. Hope you can find room in your diary for this amazing concert.
See you at the Tradies (meals very reasonable too so you can make a whole night of it)
Yours in music,
Jenny Watson for Sutherland Acoustic
PS We had a beautiful night for John Dengate's Tribute it went off so well and we had such a variety of poems and songs by some of the best performers. It was a great night suitable to celebrate such a legend as John was. We raised $250 for the Garvan Institute which was a great outcome.
PPS Our session night this Thursday 28th November 7.30pm. Friendly jam. All welcome to sing, say a poem or play instrument or just listen. No charge. usually in Kaimea Room but check at reception we have been moved other places.
PPPS: I am in the Mesiah a choral (400 strong) Christmas Masterpiece by Handel. It is in it's 73rd year and held in the Sydney Town Hall on 14th and 15th December. We of course need more bums on seats. It is magnificent and worth seeing if you haven't seen it before. Tix are $30 if you get in touch with me otherwise dearer. ph 95762301
Sutherland District Trade Union Club - The Tradies
Cnr Manchester Road North & The Kingsway, Gymea
Entry: $15 (pensioners $10) (Kids <12 free!)
Contact: Maeve (02) 9520 5628 or Jenny on (02) 9576 2301 after 6pm.
Session Night - Don't forget our monthly session nights (4th Thursday) at 7.30pm. Come along to a friendly jam with warm supportive fellow jammers. All welcome. All encouragement given no pressure. Any style or standard is fine. No charge. Held at same place as above but usually in the Plush room which is downstairs past the coffee shop. For more info call (02) 9520 6180.
Tune Session Night - 4th Friday of the month from 7.30pm. (Kaimea Room). Stringed and other instruments welcome. Ability to play with others and have basic chord knowledge. Welcome to listen. Phone Ian Knight (0438) 830 374.