Cap in Hand at Sutherland Acoustic

7.30pm, Thursday 10th April 2014
By Jenny Watson
Posted Tuesday, February 11, 2014
Cap in Hand Are a folk duet comprising Dave Spira and Nigel Walters (Wheeze and Suck Band).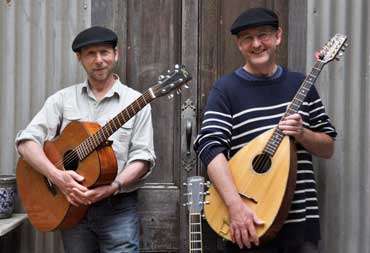 Dave plays exquisite finger style acoustic guitar in a range of open tunings while Nigel sings, plays finger style guitar, mandolin and cello mandolin.
Dave and Nigel have played music together for several years now appearing at a number of folk festivals and as regular performers at Hornsby Folk Club.
They are both fine musicians and entertainers.
Their influences include Nic Jones, Martin Simpson, and Bill Mize and their music ranges from traditional to contemporary. In addition they both write many of the songs and tunes they perform.
Dani Karis - Dani Karis was recently awarded the Australian Songwriters' Rudy Brandsma Award for Songwriting Excellence. Her writing has been winning awards for some time now, but perhaps the particularly interesting thing about this one is that Australia's most significant association of independent songwriters chose a folk song about our national identity for its top prize. Dani's two studio albums (2011 and 2014) allow a small window into her prolific songwriting, and her full five-piece band brings the songs to life on the big stages, but it is in the small and acoustic venues that Karis's lyric writing really shines.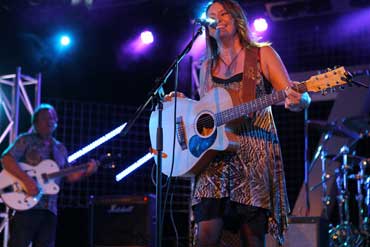 I am sure you will enjoy these three fine artists. Hope you will join us on April 10th.
See you at the Tradies (meals very reasonable too so you can make a whole night of it)
Yours in music,
Jenny Watson for Sutherland Acoustic
PPS. Maeve continues to make very good progress and continues to improve each day. We hope she will be back at folk club very soon. Thanks for all your concern.
Sutherland District Trade Union Club - The Tradies
Cnr Manchester Road North & The Kingsway, Gymea
Entry: $15 (pensioners $10) (Kids <12 free!)
Contact: Maeve (02) 9520 5628 or Jenny on (02) 9576 2301 after 6pm.
Session Night - Don't forget our monthly session nights (4th Thursday) at 7.30pm. Come along to a friendly jam with warm supportive fellow jammers. All welcome. All encouragement given no pressure. Any style or standard is fine. No charge. Held at same place as above but usually in the Plush room which is downstairs past the coffee shop. For more info call (02) 9520 6180.
Tune Session Night - 4th Friday of the month from 7.30pm. (Kaimea Room). Stringed and other instruments welcome. Ability to play with others and have basic chord knowledge. Welcome to listen. Phone Ian Knight (0438) 830 374.