Phil Garland at Sutherland Folk Club

7.30pm, Thurs 13th September 2007
By Jenny Watson
Posted Tuesday, July 24, 2007
Sutherland District Trade Union Club (The Tradies)
Cnr Manchester Road North & The Kingsway, Gymea
Entry: $10
Contact: Jenny on (02) 9576 2301 after 6pm or Maeve (02) 9520 5628.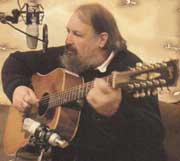 Phil Garland
This month we are proud to present back by popular demand PHIL GARLAND direct from the South Island one of NZ's finest folksinger/songwriters. He'll transport you to his beautiful part of the world and learn some of it's history through the passage of his songs. Phil Garland has got a great wit, repartee and is one of those true characters on the folk scene. Miss him at your peril.
The Minglewood Mudcats
To compliment Phil we have the four piece band The Minglewood Mudcats who write their own quirky compositions which lift your spirits.Ken Smith well known on the folk scene writes alot of these off beat songs and plays an awfully mean ukalele.
+ Floor spots welcome!
Session Night
Don't forget our monthly session nights (4th Thursday) at 7.30pm. The next one is on Thursday 27th September (4th Thursday). All welcome, friendly and fun jam session any standard any type of entertainment. Please come along and have a go. No pressure! No charge!
Sutherland Folk Club Choir
A new choir has started in the south. Mary Jane Field a well known, experienced and highly enthusiastic choir leader is leading the group. The choir meets weekly from 10-12noon in school term, at Sutherland District Trade Union Club (Tradies for short),Kingsway, Gymea-short walk from Gymea station. Cost $10. Emphasis on social/green issues. Enquiries: Jenny (02) 9576 2301.