Handsome Young Strangers at Sutherland Acoustic

7.30pm, Thurs 10th July 2008
By Jenny Watson
Posted Wednesday, May 28, 2008
Sutherland District Trade Union Club (The Tradies)
Cnr Manchester Road North & The Kingsway, Gymea
Entry: $10 (Kids <12 free!)
Contact: Maeve (02) 9520 5628 or Jenny on (02) 9576 2301 after 6pm.
Sutherland Acoustic (formerly Sutherland Folk Club) is pleased to present:
Handsome Young Strangers
This time we have the reduced Handsome Young Strangers with just the two lead singers Dion and Fredo. Both from the Shire they have been the main driving force behind the band for almost 4 years now. The boys have an infectious enthusiasm that will have you singing along and you will truly feel a part. Always fun, they bring their own distinct brand of colonial and bush rock music Australiana once more to our club delivered with the intensity of a Victa mower! Traditional Aussie music is getting harder to find so do come along and support this endangered music genre.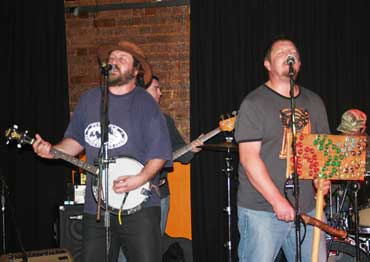 PS: They also write some of their songs.
Also on the bill with be:
Clare Roberts & Glenn Bowker
Clare has a powerful voice giving her strong vocals. She has performed since aged 10,going professional at 20 and performing with such bands as Pinchgut, who supported Peter,Paul and Mary on their anniversary tour and The Original Eureka Band who have won awards at Tamworth. Glenn is very accomplished on guitarist who has performed with Charlie and the Mudsliders all over the South Coast. Also accompanying them will be Leigh Youdale on harmonica and Dorothy Ivery providing beautiful harmonies.
Floor spots welcome!
Session Night

Don't forget our monthly session nights (4th Thursday). The next one is on Thursday 24th July. All welcome, friendly and fun jam session any standard any type of entertainment. Please come along and have a go. No pressure! No charge!
Sutherland Folk Club Choir
Mary Jane Field a well known, experienced and highly enthusiastic choir leader is leading this choir which meets weekly from 10-12noon in school term, at Sutherland District Trade Union Club (Tradies for short),Kingsway, Gymea-short walk from Gymea station. Cost $10. Emphasis on social/green issues. Enquiries: Jenny (02) 9576 2301.

Other upcoming Handsome Young Strangers gigs:
11 Jul 2008 Greenroom, Canberra w/ the Beards & O'Hooligans
12 Jul 2008 Lansdowne Hotel, Chippendale (3 sets)
18 Jul 2008 Heritage Hotel, Bulli- w/ The Gin Club
20 Jul 2008 The Annandale Hotel-w/ The Gin Club
25 Jul 2008 Petersham Bowling Club w/ Tim Freedman
8 Aug 2008 HYS's 100th gig @Brass Monkey- + the Jones + O'Hooligans
22 Aug 2008 Ding Dong Lounge, Melbourne- w/ the Go-Set
6 Sep 2008 21st Annual Bush Tucker Day, Trundle NSW w/ The Bushwackers
4 Oct 2008 The Log Cabin, Gooloogong- w/ the Re-Mains