Engadine House concert with Pat Drummond

2.30pm, Sunday 17th May 2009
By Margaret Bradford
Posted Thursday, April 9, 2009
+ Karen and Marcus Sturrock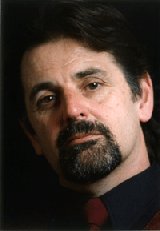 Pat Drummond is an Australian singer/songwriter. His highly original music crosses the genres of country, folk and rock and roll and his musical career spans three decades. Based at Leura in the Blue Mountains near Sydney, in the State of New South Wales, his style is a cross between songwriting and journalism. His well documented songs about real people and places are drawn from interviews gathered on his erratic tours across Australia and present a composite picture of that country and her people.
Pat's amazing three decade long career has seen him pass through a half dozen 'reincarnations' that have produced an incredible body of original work in as many different musical genres. His current shows feature music from all of his previous incarnations and a splendid and challenging time is guaranteed for all. Bring your brain, your voices and your foot-en' tappin' shoes. You'll need them all.
Contact: Margaret (02) 9520 6180 or (0403) 936 785 (booking essential)
Cost: $15/$12 (includes yummy home made afternoon tea)
Look forward to seeing you . . .