House concert with Bernard Carney

2pm Sunday 23rd Oct 2005
By Margaret Bradford
Posted Monday, October 10, 2005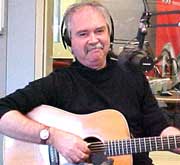 Bernard's songs tell stories of Australia, its people, its landscape and its history, from thoughtful observations of the personal and political forces that shape us to hilarious musical commentary on the absurdities of the everyday. He can sing, write and fingerpick guitar beautifully. He also charms the audience, voted entertainer of the year at the Port Fairy Folk Festival in 2003.
I'm a bloke who plays guitar and sings about what we all have to deal with in our everyday situations.

While a troubadour by trade, Bernard began his life in Australia as a geologist, but found that sitting in a pub playing Beatles songs made a better income and way of life. Thirty years later, he's still doing it. Carney sings a mixture of songs, humourous and hardened; one of his songs 'Gardens of Death' was taken up by the Red Cross for its worldwide campaign for the removal of landmines.
To book, ring 9521 6180
Donation: $15/$12 (afternoon tea included)
This will be a treat to remember.