House concert with Martin Pearson

2pm Sun 25th Feb 2007
By Margaret Bradford
Posted Thursday, February 1, 2007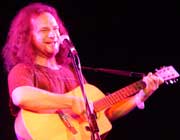 Martin Pearson is a multiple choice performer - stand up comedian/satirist/parody writer/folksinger/poet/ debater/storyteller - with a keen eye for making everyday events so mundane that they are laughable. A performer of renown and a singer of some notes, Martin longs for serious recognition in much the same way as a flatworm longs for Reeboks. He can on occasion, and in the true folk tradition, sing songs so maudlin that audience members may attempt to end it all by throwing themselves into a pint of Guinness.
Some testimonials:
Martin Pearson writes songs that tickle your funny bone and your fancy but hit a nerve every time. We like him because he makes us laugh, but also because he makes us think. (Judy Small)

Martin is a witty and spontaneous comedian with a huge repertoire of both serious and comic songs from several sides of the globe; he'll provide you with a wonderful evening of laughter and thoughtfulness. (Les Barker, UK)

Look forward to seeing you all . . .
Margaret
Bookings essential
$20/$15 (afternoon tea provided)
Contact: Margaret Bradford (02) 9520 6180