House Concert with Jan Preston

2pm, Sunday 12th October 2008
By Margaret Bradford
Posted Tuesday, August 19, 2008
Escape from the crowds and your hectic life with friends and a cuppa in the peace and comfort of our house concert at Engadine.
Jan Preston can best be described as 'Queen of Boogie Woogie Piano' and has recently returned from her third successful tour of Europe where she has been embraced into the large Boogie piano circuit, particularly in Germany and France.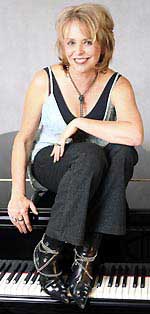 Her stunning ability as a boogie, honky tonk and ragtime piano player, is matched by a richly resonant voice and a joyful and communicative stage personality. With her sassy vocals and timeless blues and jazz piano licks Jan has a way of fully engaging the audience and never fails to leave them in raptures.
One woman, a piano and a whole lot of talent. (Edinburgh Festival)
Visit her web site to read more about Jan.

Contact: Margaret Bradford (02) 9520 6180 or (0403) 936 785 or email.
Cost: $20/$15pp (includes home-cooked afternoon tea)
Booking essential.