Engadine House Concert with Geoffrey W. Graham

2pm, Sunday 1st August 2010
By Margaret Bradford
Posted Thursday, July 1, 2010
As the Crow flies . . .
Bush verse, music and comedy
An afternoon with Geoffrey W. Graham where just about anything goes . . . verse, yarns and songs in a layback Aussie celebration of characters and icons. You'll laugh and you'll cry.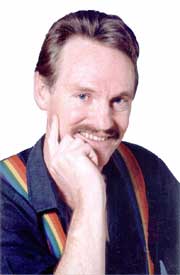 "Hear the ghost of Ned Kelly and Lalor, smell the eucalyptus and Billy Tea, taste the battler's triumph and see the romance of the Aussie bloke."
This is Geoffrey's only Sydney concert so it will be your only opportunity to see this man in action and boy . . . does he treat you to a lively Aussie performance in story and verse!
He is phenomenal . . . have you laughing one minute and crying the next!
Look forward to seeing you there . . .
Margaret & Allan
Contact: Margaret Bradford (02) 9520 6180 or (0403) 936 785 or email.
Cost: $20/$15pp (includes home-cooked afternoon tea)
Booking essential.