House Concert with Danny Spooner + Walters & Warner

2pm, Sunday 28th September 2008
By Margaret Bradford
Posted Wednesday, August 20, 2008
Come all ye!!
Escape from the crowds and your hectic life with friends and a cuppa in the peace and comfort of our house concert at Engadine.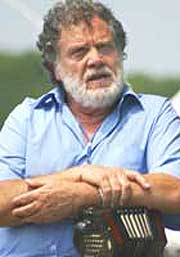 A double barrel deal of traditional and contemporary music for you this time!
Danny Spooner - Back by popular demand the spellbinding storyteller/singer, Danny Spooner. A social historian, Danny's passion is the expression of British and Australian culture through folk music. Danny accompanies some of his songs with concertina or guitar.
Margaret Walters & John Warner - a combination of strong vocal harmonies. Margaret's richly expressive voice tells some wonderful stories in songs and John's brilliant song writing is world renowned.
Look forward to seeing you there . . .
Margaret & Allan
Contact: Margaret Bradford (02) 9520 6180 or (0403) 936 785 or email.
Cost: $20/$15pp (includes home-cooked afternoon tea)
Booking essential.