Engadine House concert with George Mann (US)

2pm, Sunday 9th February 2014
By Margaret Bradford
Posted Wednesday, January 1, 2014
You are invited to another popular Engadine (Sydney) House concert this time with George Mann (US).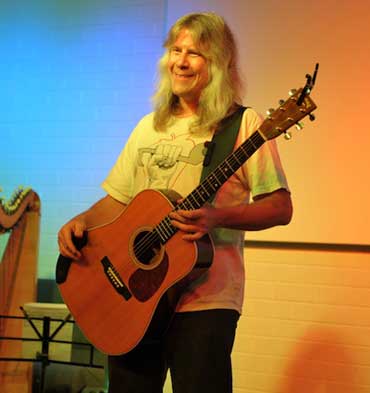 George Mann - guest artist at our first concert for 2014 . . . powerful & witty songs of labor and social activism. His concerts are part sing-along, part history lesson. He can make you shout for joy, send chills down your spine or bring tears to your eyes in the same set.
George created and produced the "Hail to the Thief!" anti-Bush CD series, which featured such folk legends as Tom Paxton, Utah Phillips, Billy Bragg and Magpie, and his work with veterans, unions and anti-war groups has kept him on the front lines for 20 years.... has toured and recorded extensively in US ... songs focus on post-traumatic stress disorder and the cost of war to military families... shared stage with Pete Seeger among others.
Support act: 'Totem Pol'e Rik Palieri - songwriter & multi-instrumentalist on banjo, blues guitar, mouth bow, Native American flute - wild and woolly story-teller, yodeller . . . widely recorded and big name on US music scene.
Booking essential.
Contact: Margaret (02) 9520 6180 or (0403) 936 785
+ Yummy home made afternoon tea.... $20/$15
If you missed George when he was in Australia last year here's your chance to catch him. Look forward to seeing you all and all the best for 2014.