The Shack September '14

7.30pm, Saturday 6th September 2014
By Roxana Jarolimek
Posted Sunday, May 4, 2014
N.B. The Shack Caravan is hitched back at its usual parking spot at The Tramshed Narrabeen.
The Tramshed
1395a Pittwater Road
Narrabeen
(In between the Ambulance Station and Car Park of Narrabeen Shopping Centre)
The Shack provides an entertaining and diverse range of both modern day and traditional quality acoustic music in a comfortable candle lit atmosphere on the first Saturday of each month on the Northern Beaches at Mona Vale Bowling Club located at 1598 Pittwater Rd, Mona Vale . Bring your own snacks and nibblies if you wish.
Each Shack concert begins at 7:30 pm with several 15 minute floor spots, followed by three half hour to 40 minute main acts.
Entry is $25 and $20 for Shack members. (Info: 0413 635 856)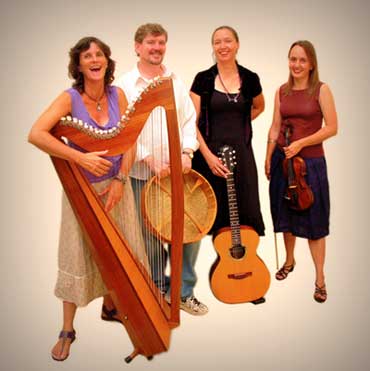 Guest artists this month include:
George Callaghan is a harp maker and player, whose identity encompasses not only his work as painter but also as a committed luthier and all-round musician. George's harp playing has led to numerous appearances on national and international television and radio. A bit of a gypsy in the last few years, George is currently living in Llherm, France.
Folklore matches the fine talents of Rosie McDonald , Fiona McVicar, Cliona Molins and Anthony Woolcott , all well experienced musicians on the festival scene. For these time travellers, past is present is future , the human state not changing over the millennia despite our changed surroundings and the march of time. Secrets to unlock held fast to the words, music, symbols and stories of the past, Pearl in the mouth of the fish, talking trees, magic and mystery . From murder ballads and songs of revenge to sea shanties and songs of the seasons .From Bard song to beautiful and tender love songs, the joy of lovers re-united, the symbolism of flowers and trees, toe tapping, skirt swirling fiddle tunes and evocative mist swirling Harp Airs. Folklore explore the depths and breadth of the folkloric canon to bring you the music that inspires and fires them.
Hooper and O'Toole is 'in yer face' Celtic music played with fire and soul. We teamed up four years ago after many sessions at the national folk fest Canberra.... And brought energy back to the folk scene.We're well known and very popular in the Irish pub scene playing at pj o. 'Briens in the city, pj gallaghers leichardt,wooloomooloo bay hotel, cock and bull, old fitzroy. And now have a residency at Dicey Riley's pub in Wollongong and the amazing Friend in hand Glebe. Always great craic leading to dancing and a lot if fun. Celtic music with attitude, fire and soul.
The Shack is a non profit organisation – all proceeds go toward the promotion and presentation of original, contemporary and traditional 21st century folk music.