The Shack October '14

7.30pm, Saturday 4th October 2014
By Roxana Jarolimek
Posted Tuesday, August 12, 2014
N.B. The Shack Caravan is hitched back at its former parking spot at The Tramshed Narrabeen.
The Tramshed
1395a Pittwater Road
Narrabeen
(In between the Ambulance Station and Car Park of Narrabeen Shopping Centre)
The Shack provides an entertaining and diverse range of both modern day and traditional quality acoustic music in a comfortable candle lit atmosphere on the first Saturday of each month on the Northern Beaches at Mona Vale Bowling Club located at 1598 Pittwater Rd, Mona Vale . Bring your own snacks and nibblies if you wish.
Each Shack concert begins at 7:30 pm with several 15 minute floor spots, followed by three half hour to 40 minute main acts.
Entry is $25 and $20 for Shack members. (Info: 0413 635 856)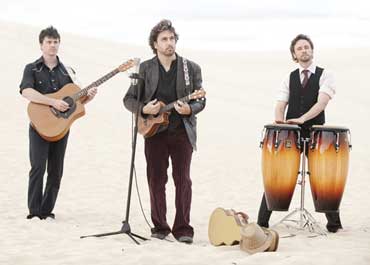 Guest artists this month include:
Danny Spooner - Singer of traditional and contemporary folk songs of Britain and Australia - solo acoustic singer, guitar and concertina. In recent years he's sung at festivals, clubs and house concerts in Europe, England and Scotland, Canada and the USA. In 2007 and 2011 he was honoured to be invited to work with Richard Tognetti and the Australian Chamber Orchestra. For 50 years in Australia audiences have enjoyed his concert brackets, workshops and one-man shows, his deep multi-disciplinary understanding of social history, his personal warmth, and his immense repertoire of songs covering the full range of human emotions, endeavours and experiences… He is a spellbinder.
Grimick - An honest, acoustic, folk-rock style, Grimick are an energetic group of singer/song-writers who never stray far from the essential ingredients - great rhythm, a contagious melody, and something to say….With seemingly no upward limit to their vocal range, they are capable of both power and tenderness, humour and passion. Combine this with ripping guitar riffs and solos, smooth harmonies, earthy percussive rhythms and arrangements on conga, trumpet, ukulele and piano – and you have a special live act not to be missed.
Ian 'the Pump' Macintosh - Ian is best known as melodeon player and songwriter with the popular Wheeze & Suck Band. He is also an exhibiting fine artist, an event designer and a teacher of traditional English dance. Ian's musical life has taken him from his manifestation as a solo folkie performing onstage with Ewan McColl and Peggy Seeger at the latter's folk club in London in the early 70s, via psychedelic electronics acts; 35 years teaching the dark arts of English ritual dance, to his current role with the Wheezers. A regular solo performer in Australia and the UK, Ian has also won the Australian Songwriters award, and has been a finalist in two MusicOz song writing competitions. Currently, Ian's solo performances present a blend of his original songs and tunes, alongside original readings of traditional material, delivered with a blend of electronica and acoustic sounds. Ian has released six albums with the Wheeze & Suck Band, and has a solo album available at gigs.
The Shack is a non profit organisation – all proceeds go toward the promotion and presentation of original, contemporary and traditional 21st century folk music.
.