The Shack - November 06

7.30pm, Saturday 4th November 2006
By Kathleen Swadling
Posted Thursday, October 19, 2006
The Tramshed
1395a Pittwater Road
Narrabeen
(In between the Ambulance Station and Car Park of Narrabeen Shopping Centre)
Guest artists this month include:
Paul Wookey - A well known distinctive award winning Australian singer and songwriter who has been a regular performer at numerous folk and country music festivals. His music sits somewhere between folk, blues and country music with a more or less even distribution of Irish, American and Australian influences. His songs have been described as "powerful and important".
The Shady Band - A four piece band consisting of young talented musicians who perform original songs written by lead singer Shad Haumu whose gutsy blues voice makes their music as fresh and soulful as it is uplifting. Their hope is to provide peace loving energy that puts smiles on faces and "sunny times in the shade".
Tully - A talented young acoustic singer/songwriter/multi-instrumentalist from the Northern beaches of Sydney who comes from a folk background and has merged his influences to develop a unique and original sound. His driving guitar rhythms support melodic vocal deliveries, creating an energetic show that draws the audience into his journey.
Spasm Band - The Shack's resident uplifting good time band made up of all original Shacky's who are accomplished singers and musicians having played in a variety of bands over the years including Country Radio, The East Neasdon Spasm Band, the Stovepipe Spasm Band and the Wheeze and Suck Band.
Coffee and tea is available but BYO refreshments and nibblies.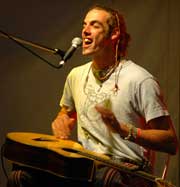 The Shack is held on the first Saturday of every month. There's a cover charge of $15 (or $10 for members, students and pensioners) to cover costs. The Shack is a non profit organisation – all proceeds go toward the promotion and presentation of original, contemporary and traditional 21st century folk music.