The Shack November '14

7.30pm, Saturday 1st November 2014
By Roxana Jarolimek
Posted Thursday, August 14, 2014
N.B. The Shack Caravan is hitched back at its former parking spot at The Tramshed Narrabeen.
The Tramshed
1395a Pittwater Road
Narrabeen
(In between the Ambulance Station and Car Park of Narrabeen Shopping Centre)
The Shack provides an entertaining and diverse range of both modern day and traditional quality acoustic music in a comfortable candle lit atmosphere on the first Saturday of each month on the Northern Beaches at Mona Vale Bowling Club located at 1598 Pittwater Rd, Mona Vale . Bring your own snacks and nibblies if you wish.
Each Shack concert begins at 7:30 pm with several 15 minute floor spots, followed by three half hour to 40 minute main acts.
Entry is $25 and $20 for Shack members. (Info: 0413 635 856)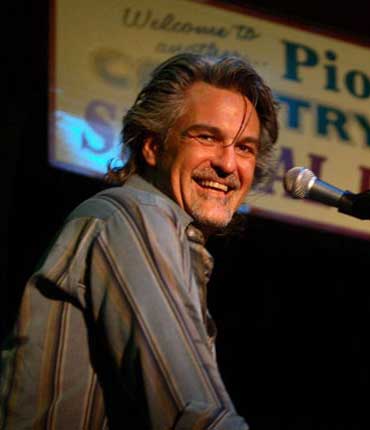 Guest artists this month include:
Kevin Bennett - Well respected singer/songwriter with the Sydney roots band The Flood, CMAA Gold Guitar award and Aria Nominee for 2006, writes relevant, contemporary Australian music containing the elements of Blues, Rock and Country-telling stories of where he's from and where he might be going. He sings his life. Kevin is a popular co-writer having penned songs with Troy Casser-Daley, Broderick Smith, Kim Cheshire, Felicity. His song "Paul Kelly's Blues" was nominated for APRA Song of the Year. Another of Kevin's songs, "Hello Blue Sky" recorded by The Flood reached the number one spot on the Country Music Chart. Kevin's acoustic shows reveal the essence of his songs as he takes the audience on an unpredictable musical ride where anything can, and will, happen.
Tully - A singer/songwriter/musician extraordinaire who writes entrancing, sensitive songs, with an innovative and impressive guitar technique. His original music spans near all genres and emotions, remaining ever enthralling and unpredictable. Tully has merged his varied influences into a unique style of groove-laden acoustic mystery. The melodic delivery and driving guitar creates an intriguing show that draws the audience into its journey.
Franklin - Was born from a love of music and a need to do something different. Mordy and Gibs began jamming together and realised that every session produced a few original songs. Their rhythms connect with audiences and their songs and level of high energy performance keep them in regular demand. After several years of gigs on their home turf of the Northern Beaches they have found a loyal and growing following in Brisbane through regular appearances at the Generator Events series of concerts.
The Shack is a non profit organisation – all proceeds go toward the promotion and presentation of original, contemporary and traditional 21st century folk music.