The Shack - March '13

7.30pm, Saturday 2nd March 2013
By Roxana Jarolimek
Posted Tuesday, January 1, 2013
The Tramshed
1395a Pittwater Road
Narrabeen
(In between the Ambulance Station and Car Park of Narrabeen Shopping Centre)
The Shack presents a remarkable line up of live acoustic music, with a variety of artists on the first Saturday of each month. It is pleasantly laid out cabaret style in a candle lit atmosphere. The music is gently amplified with three main artists each month and one or two pre-booked floor spots. Complimentary tea and coffee is available and feel free to bring your own drinks and nibbles.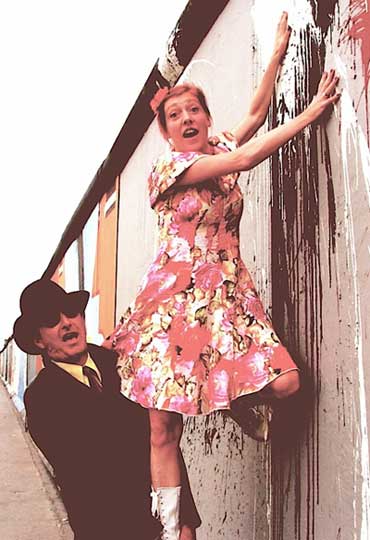 Guest artists this month include:
Don't mention the wall! - Songs and stories from the fall of the Berlin Wall and beyond, with Deta and Rob Rayner (accordion/voice , guitar/voice) from The Beez playing classics and originals -Bowie to The Beatles, from Polka to Punk and Klezmer to Cabaret. Unadulterated truth about the dramatic post-Wall banana shortage, East German Country and Western harmonica production and Stasi-assisted sound checks, all from a uniquely German/Australian perspective. Deta and Rob´s cabaret sensibilities inform their performance and choice of songs as they Polka, Country and Balkan it up on a variety of well-known and sometimes obscure hits and originals inspired by and dealing with the Berlin Wall, Deta´s irresistable accordion melding with Rob´s driving accoustic guitar and, of course, those trademark Beez harmonies.
Gilbert Whyte - is a Scottish songwriter who has drawn a performance style out of both traditional and contemporary folk and blues. Fingerpicking his way about Australia with a guitar in one hand and a banjo in the other, Gilbert is a relentless travelling musician. His rambling storytelling songs are earning him a reputation for musicianship and heartfelt performance wherever he goes.
Leon and Toni - Drawing on both contemporary and traditional songbooks, Leon Rabin and Toni Davies are singers who accompany themselves with acoustic guitars, whistles , and various percussion instruments. Leon is a picker and a singer from out of the sixties who paid his dues in the clubs of London and across the USA, while Toni sings wonderful harmonies to his lead vocals, giving this duo their unique sound. Arnie Green adds tasteful lead guitar accompaniment,lending his voice occasionally to add a third harmony. The vocals are strong, the material is well chosen, and the obvious enjoyment of what they do is contagious. They're a little bit folk and a little bit country, and their songs are delivered relaxed with a dash of humour. Should you feel so inclined, there's always room to sing along.
Coffee and tea is available but BYO refreshments and nibblies.
The Shack is held on the first Saturday of every month. There's a cover charge of $20 (or $15 for members, students and pensioners) to cover costs.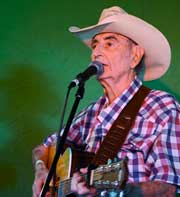 The Shack is a non profit organisation – all proceeds go toward the promotion and presentation of original, contemporary and traditional 21st century folk music.