The Shack - June '12

7.30pm, Saturday 2nd June 2012
By Roxana Jarolimek
Posted Sunday, January 15, 2012
The Tramshed
1395a Pittwater Road
Narrabeen
(In between the Ambulance Station and Car Park of Narrabeen Shopping Centre)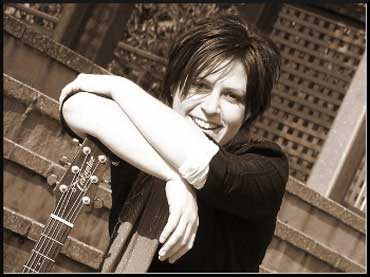 Guest artists this month include:
Jenny Biddle - Jenny Biddle is emerging as one of the most dynamic and diverse songwriters of her time. At one moment humble in her abilities, then suddenly letting rip into a blistering guitar attack that resembles Ian Moss in full flight, songsmith Jenny Biddle is captivating audiences throughout Australia. Crowned Melbourne's Best Busker 2012 and 2010, People's Choice Award at the Tamworth Country Music Festival Busking Championship 2012, and with debut album Chest Of Drawers bursting into the Top 50 Triple J Unearthed charts… accolades for Jenny just keep on rolling in. With a commanding musical dexterity from beautiful non-nonsense folk, to dirty blues grooves, rockin' piano riffs, or an intimate moment of reflection, catch Jenny now . . . before the moment passes by.
Jasmine Beth - has the rare ability to tell a convincing story through her songs. Whether delivering a gritty Tom Waits style blues or a poetic ballad, she draws in her audience with her fresh sound; sharp, meaningful lyrics and warm, enticing vocal style. In 2010, she was awarded Second Prize in both the Sydney Singer-Songwriter Competition and in 2009, she was a semi-finalist in the U.K. Songwriting Competition. After touring the U.K. and Germany in late 2011, Jasmine returned to Australia to launch her debut EP in March, 2012, at The Basement, Sydney. She has been touring ever since.
Get Folked - A play of words and this band plays up a storm. Get Folked started as a traditional Irish band playing at sessions, festivals and other gigs around New South Wales. Over time, the band has been influenced from traditional music from all around the world emerging with a unique style and sound. Busking and festivalling their way around New South Wakes with all the liveliness and energy that four young, folky blokes can offer.
Coffee and tea is available but BYO refreshments and nibblies.
The Shack is held on the first Saturday of every month. There's a cover charge of $20 (or $15 for members, students and pensioners) to cover costs. The Shack is a non profit organisation – all proceeds go toward the promotion and presentation of original, contemporary and traditional 21st century folk music.