The Shack - July 2010

7.30pm, Saturday 3rd July 2010
By Kathleen Swadling
Posted Friday, April 2, 2010
The Tramshed
1395a Pittwater Road
Narrabeen
(In between the Ambulance Station and Car Park of Narrabeen Shopping Centre)
Guest artists this month include:
Green Mohair Suits - Born from a love for sweet harmony and miserable lyrics, The Green Mohair Suits have grown from a duo into a six piece ensemble over the past four years. In the tradition of old time mountain string bands the current line-up includes Banjo, Guitar, Mandolin, Lapsteel, Upright Bass, and Accordian. While influenced by bluegrass, folk, and country, The Green Mohair Suits have developed their own brand of Australiana. Gram Parsons once described his songs as "Cosmic American Music", and in a nod to their name-sake The Green Mohair Suits give you Cosmic Australian Music. Their debut album "A Heathen Hymn Book" was released in April 2009. 12 Tales of love, woe and drinking. Of course. The current members of the band Brian Campeau, Richie Cuthbert, Mikey Floyd, Jason Mannell, Ben Romalis, Elana Stone.
Phil Bracken - Like him, Phillip Brackens music is nomadic in spirit. An obvious dreamer, he expresses a curious nature within his tunes. With a unique and warm voice and rhythms that are calm yet intense and hypnotic at the same time, his music is at once powerful and absorbing.
Gilbert Whyte - Gilbert Whyte is a Scottish songwriter who has drawn a performance style out of both traditional and contemporary folk and blues. Fingerpicking his way about Australia with a guitar in one hand and a banjo in the other, Gilbert is a relentless travelling musician. His rambling storytelling songs are earning him a reputation for musicianship and heartfelt performance wherever he goes.
Coffee and tea is available but BYO refreshments and nibblies.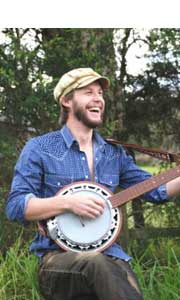 The Shack is held on the first Saturday of every month. There's a cover charge of $15 (or $10 for members, students and pensioners) to cover costs. The Shack is a non profit organisation – all proceeds go toward the promotion and presentation of original, contemporary and traditional 21st century folk music.