The Shack - February 2009

7.30pm, Saturday 7th February 2009
By Kathleen Swadling
Posted Wednesday, December 10, 2008
The Tramshed
1395a Pittwater Road
Narrabeen
(In between the Ambulance Station and Car Park of Narrabeen Shopping Centre)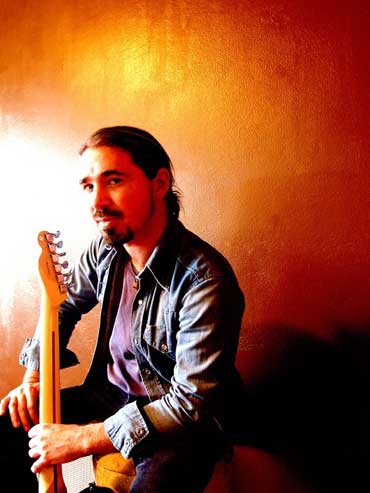 Guest artists this month include:
Dave Calandra - Finger-style guitar plucked with intricate detail, open tunings for depth of tone, and smooth vocals delivered with breathy intimacy. These are just a few of the elements that comprise the sound of Dave Calandra. Acoustic or Electric, Solo, or as a Duo with percussion, Dave's songs are refreshing and contemporary, yet layered with subtle folk and blues undertones. A gifted songwriter with a knack for contagious melodies, Dave draws from his wealth of life experience to express in song what most of us can only feel.
Luke Escombe - After numerous musical adventures, taking him to different parts of the world, Sydney artist Luke Escombe has just released his first solo album: "Golden Ages". Recorded in a converted dairy shed in the hills of Byron Bay with a band of local jazz cats, the songs that emerged were warm, humorous meditations on love, life, time travel and happiness. Some might also recognise Luke as the lead singer in the amazingly original band, The Locals. Luke's songs are political, without being partisan; personal, without being maudlin; funny, but never lightweight. They open up like puzzle boxes, revealing more with each listen. Reviews: Escombe has a baritone voice worthy of a love-song dedication hour. Thankfully, he's also got wit in spades and knows how to spin a good story. [Brett Winterford, Sydney Morning Herald]
Luke blew me away man. He's like a cross between Jimi Hendrix and Leonard Cohen. In the same body. [Jack Jones - Southern Sons]
Spasm Band - You name it, they can do it. With the big voices of Andy George and Rhonda Mawer complimenting one another, plus the magic of Chris Blanchflower's wild harmonica playing and Graham Vick's funky double bass, these accomplished singers and musicians deliver a diverse combination of jug, blues and folk. Members have played in a variety of bands over the years including Country Radio, The East Neasdon Spasm Band, the Stovepipe Spasm Band and the Wheeze and Suck Band.
Coffee and tea is available but BYO refreshments and nibblies.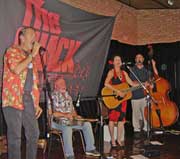 The Shack is held on the first Saturday of every month. There's a cover charge of $15 (or $10 for members, students and pensioners) to cover costs. The Shack is a non profit organisation – all proceeds go toward the promotion and presentation of original, contemporary and traditional 21st century folk music.