The Shack December '14

7.30pm, Saturday 6th December 2014
By Roxana Jarolimek
Posted Thursday, October 16, 2014
The Tramshed
1395a Pittwater Road
Narrabeen
(In between the Ambulance Station and Car Park of Narrabeen Shopping Centre)
The Shack provides an entertaining and diverse range of both modern day and traditional quality acoustic music in a comfortable candle lit atmosphere on the first Saturday of each month on the Northern Beaches at Mona Vale Bowling Club located at 1598 Pittwater Rd, Mona Vale . Bring your own snacks and nibblies if you wish.
Each Shack concert begins at 7:30 pm with several 15 minute floor spots, followed by three half hour to 40 minute main acts.
Entry is $25 and $20 for Shack members. (Info: 0413 635 856)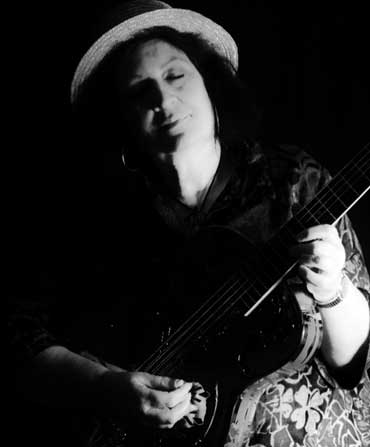 Guest artists this month include:
Chris O - A solo artist based in Katoomba, NSW. Singer, song writer and instrumentalist she arrives at gigs carrying her gear like a pack pony, playing dobro, banjo, lapslide, ukes and plain ole guitars - just a few of the instruments Chris plays. Chris channels the music of the great old times - like Memphis Minnie, Skip James, Missippi Fred McDowell and Blind Boy Fuller - playing a load of jelly-roll and jinx - Blues the way it used to be.Chris has recently been on a 10 week tour of Europe, playing blues bars and folk clubs in Berlin, the Netherlands, France, Scotland and England as a solo artist. Chris also meets up with a number of international musicians she works with via the internet site Soundcloud. You can hear some of her international grassroots musical collaborations and compositions on her Soundcloud site.
Renny Field - Armed with a guitar and a suitcase, Renny Field has spent much of the past few years on the road, plying his craft at every available opportunity and drawing inspiration from the people and places he has encountered along the way. From the lonely hotels of regional NSW to the street stages of Berlin and the songwriter rooms of London and Dublin, he has held court with audiences the world over and felt elation and exhaustion in equal measures. His latest album "Fieldnotes" is an open account of these experiences and undoubtedly the truest reflection yet of his life as a touring artist.
The Distant Sons - Take the loose comfort of a Bluegrass foundation. With the long lost ghost of Bill Munroe a hoverin' and the harmonies of Old Crow Medicine Show a ringin' the 'Distant Sons' tip their collective hats to any true craftsman of the song. While there ain't much new here the 'Distant Sons' strike a lovely balance between consonance and dissonance.
The Shack is a non profit organisation – all proceeds go toward the promotion and presentation of original, contemporary and traditional 21st century folk music.