The Shack - December '12

7.30pm, Saturday 1st December 2012
By Roxana Jarolimek
Posted Saturday, September 1, 2012
The Tramshed
1395a Pittwater Road
Narrabeen
(In between the Ambulance Station and Car Park of Narrabeen Shopping Centre)
The Shack presents a remarkable line up of live acoustic music, with a variety of artists on the first Saturday of each month. It is pleasantly laid out cabaret style in a candle lit atmosphere. The music is gently amplified with three main artists each month and one or two pre-booked floor spots. Complimentary tea and coffee is available and feel free to bring your own drinks and nibbles.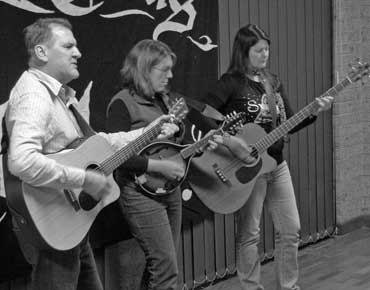 Guest artists this month include:
Gateway 23 - is a singer/songwriter folk rock trio and includes Dez & Karen Williams and Tracy Field who perform energetic original songs that will stop you in your tracks with poetic and wise observations about life and its foibles. Backed by melodic vocals and contemporary musical styles their inspired selection of songs will take you on a pleasing journey of captivating tunes and meaningful lyrics and will have you tapping and humming along throughout the performance. Dez on acoustic guitar and lead vocals, Karen on bass guitar and backing vocals and Tracy on lead guitar and backing vocals.
Brett Winterford - is reinventing the modern day troubadour, Winterford has spent the last couple of years writing songs, travelling the globe and creating a groundbreaking path for folk music, performing unique concerts atop double-decker buses, on river barges, in ancient forts, bedrooms, corner pubs and cafes from Berlin to Brooklyn. In recent years, Winterford has made Germany his second home. In the'land of poets and thinkers', his songs have garnered over 300,000 views on YouTube and attracted a great number of fans.
Bec Schofield - Listening to Bec Schofield's music is like being wrapped in silk by a warm fire, a gentle breeze in your hair, your toes in the earth and the perfect drink in your hand. Her voice is caramel for the soul; her songs' strength is in their simplicity – a pure, intimate, new voice that whispers passion and magic in a deeply feminine way. Bec's first full length release, "Love Country", a collaboration with husband Dave Mann, is incredibly beautiful. Exquisite vocal harmonies float over classical and slide guitars, Irish bouzouki and mandolin.
Spasm Band - plays lively jug band / blues / roots music with strong vocals and a variety of instruments that include double bass, harmonica, guitar and dobro. All the members have played in various bands over the years including 'The Stovepipe Spasm Band, East Neasden Spasm Band, Southern Comfort, Greg Quill's Country Radio, Midlife Crisis and The Wheeze and Suck Band'. The overall sound of this group is get down & enjoy good time & fun music.
Coffee and tea is available but BYO refreshments and nibblies.
The Shack is held on the first Saturday of every month. There's a cover charge of $20 (or $15 for members, students and pensioners) to cover costs.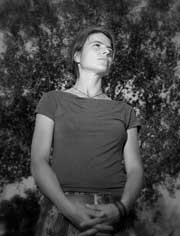 The Shack is a non profit organisation – all proceeds go toward the promotion and presentation of original, contemporary and traditional 21st century folk music.