The Shack August '15

7.30pm, Saturday 1st August 2015
By Jen
Posted Saturday, June 13, 2015
The Tramshed
1395a Pittwater Road
Narrabeen
(In between the Ambulance Station and Car Park of Narrabeen Shopping Centre)
The Shack provides an entertaining and diverse range of both modern day and traditional quality acoustic music in a comfortable candle lit atmosphere on the first Saturday of each month.
The Shack is at the Tramshed Community Arts Centre, 1395a Pittwater Rd, Narrabeen (which is located between the car park and the Ambulance Station in the Narrabeen shopping centre). BYO including nibblies if you wish.
Each Shack concert begins at 7:30 pm with several 15 minute floor spots, followed by three half hour to 40 minute main acts.
Entry is $25 and $20 for Shack members. (Info: 0413 635 856)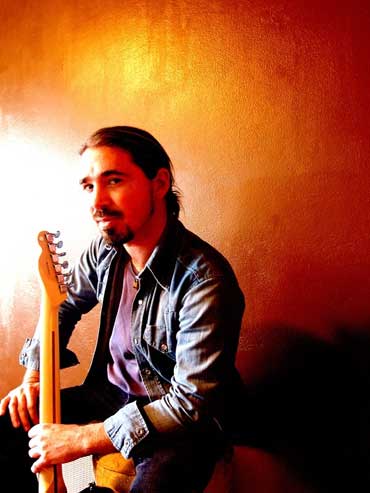 Guest artists this month include:
Dave Calandra creates the kind of songs that dwell in your subconscious. His rugged vocals, fluid guitar-style and haunting compositions have been described as sounding like Mark Knopfler and Kelly Joe Phelps covering the works of the late, great J.J. Cale. His songs are refreshing and contemporary yet layered with subtle folk and blues undertones. On stage he is a formidable performer, using a carefully crafted guitar sound and a swag of alternate tunings to weave songs within songs. Interspersed throughout is the eloquence and charm of Dave's generous storytelling.
When Mother Comes to Visit aka WMCTV, is an ensemble of family and friends - the sums of the parts.
A vocally rich, multi instrumental and colourful set of music, with strato-spheric harmonies, dazzling the audience with their versatility and theatrics. Ann Palumbo- soprano, double bass, guitar, mandolin, Ben Palumbo- stratospheric vocalist & gymnast, Paul Laszlo- baritone, double bass, banjo, Rosie McDonald- alto, guitar, bouzouki, bodhran .

WMCTV has performed at the Cygnet folk festival,Camelot lounge - Marrickville, The Vangard - Newtown, the Anywhere festival Parramatta as well as gigs in Paris & London in 2013.
Blackbirds - are an acoustic duo from the northern beaches. A mix of memorable vocal melodies and atmospheric guitar create Blackbirds' unique sound. With a catchy live performance, this is one of the best up and coming acts around and a must see.
The Shack is a non profit organisation – all proceeds go toward the promotion and presentation of original, contemporary and traditional 21st century folk music.