The Shack - April '13

7.30pm, Saturday 6th April 2013
By Roxana Jarolimek
Posted Wednesday, February 20, 2013
The Tramshed
1395a Pittwater Road
Narrabeen
(In between the Ambulance Station and Car Park of Narrabeen Shopping Centre)
The Shack presents a remarkable line up of live acoustic music, with a variety of artists on the first Saturday of each month. It is pleasantly laid out cabaret style in a candle lit atmosphere. The music is gently amplified with three main artists each month and one or two pre-booked floor spots. Complimentary tea and coffee is available and feel free to bring your own drinks and nibbles.

Guest artists this month include:
The Dingo's Breakfast - Roger Montgomery, John Angliss & Bruce Boyd are "The Dingo's Breakfast", WA's popular touring folk act. With over 150 years performing experience under their belts The Dingo's Breakfast present an electrically eclectic dialectic selection of Oz Music, Poetry and Yarnspinning, with the accent firmly on Comedy . . Beauty! This year will see the boys travelling with WA open tuning guitar maestro Graham Wilson. While The Dingo's and Graham are two separate acts, they can often be found 'guesting' on each other's presentations. This summer the Dingo's have two presentations, in performance poetry and song.
Graham Wilson - With a powerful and melodic voice, a unique guitar style influenced by Dick Gaughan and Martin Simpson and a rhythm all his own, Graham performs a choice selection of traditional songs from his native Scotland and contemporary songs from some of the finest songwriters of our time. After many years involvement in the UK scene and following a sabatical from music, he came to Perth, Western Australia, settled in and decided to rekindle his love of performing. The National Festival, Fairbridge, Newstead and various Eastern States' clubs have benefitted from his re-emergence. Having lived in both Belgium and Italy Graham is also tri-lingual and on occasion will drop a beautiful French ballad or Belgian tune into the mix.
Spasm Band - You name it, they can play it. With the big voices of Andy George and Rhonda Mawer complimenting one another, plus the magic of Chris Blanchflower's wild harmonica playing and Graham Vick's funky double bass, these lively and accomplished singers and musicians deliver a diverse combination of jug, blues, roots and folk. Members have perfomed in a variety of other great bands over the years including Country Radio, The East Neasden Spasm Band, Southern Comfort, Greg Quill's Country Radio, Midlife Crisis, the Stovepipe Spasm Band and the Wheeze and Suck Band. The overall sound of this group is a feast for the ears, so get down & enjoy the good time music.
Dan Crestani - Combining the best of the alternative folk and folk rock genres, Sydney musician Dan Crestani creates a soulful and powerful sound like that of no other . . . with no real musical talent in his family, Dan has somehow conjured an incredible feel for music. From a young age playing his Angus Young inspired guitar riffs, to hitting adolescence and leaving the electric behind for his new love of acoustic music on his baby, the twelve-string Maton. An incredible feel for funky and soulful acoustic tunes that leave his audience amazed and asking; "Where can I listen to more?"
Coffee and tea is available but BYO refreshments and nibblies.
The Shack is held on the first Saturday of every month. There's a cover charge of $20 (or $15 for members, students and pensioners) to cover costs.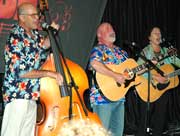 The Shack is a non profit organisation – all proceeds go toward the promotion and presentation of original, contemporary and traditional 21st century folk music.