St Albans Folk Festival

Thursday 24th -Sunday 27th April 2008
By Alison Boyd
Posted Saturday, March 22, 2008
St Albans is shaping up to be great little festival again. This year, with Anzac day falling on a Friday, the festival will run from Thursday evening through to the Sunday afternoon.
With many familiar acts, some new faces, and the return of some old favourites there promises to be something for everyone. Acts include;- Fred Smith, Andy White, John Broomhall Johnny Spillane & David De Santi, Mothers of Intention, Wheeze & Suck, Penelope Swales, Barmaid's Blush, High Fidelity, Maureen O'Brien, Jim Stubbs Backing Band, and many many more.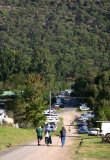 There will of course be workshops ranging through meditation & yoga, poetry, singing, dancing, and how to play & improve on various instruments. Saturday night will have a bush dance in the hall with the Gang Gang Bush Orchestra.
Camping is available on the council reserves and on the land between the festival and the river.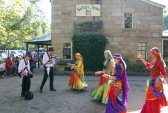 We still have room for volunteers – for more information and ticket sales please visit the website.
Come along and find out why this is the friendliest little festival around Sydney.