African Drum Workshop

Sat 17th June 2006
By Wayne Richmond
Posted Monday, May 15, 2006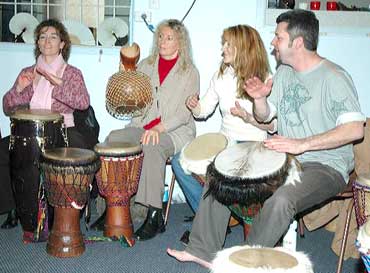 With Ray Pereira!
Learn Drum Technique and Cool Rhythms from one of Australia's top percussionists Ray Pereira
Have fun learning in a group environment and make new friends
Journey with Ray through the rhythms of West Africa
Experience and Learn the different drum parts of a performance, from the Intros and supporting rhythms; to the Breaks and the Solos.
Instruments used include Djembe, Congas, Talking Drums, Dun Duns, Cowbells and small percussion.
Venue
Waves Youth & Creative Arts Centre
23 Oliver Street, Harbord
Date
Sat 17th June 2006
Beginners: 10.30am-12.30pm - $25
Experienced: 1-5pm - $50
Both Sessions: - $60
(Drums available for hire: $5)
For more details or to book, email or call Mike Almond (0402) 101 843 or visit the FeelRhythm web site.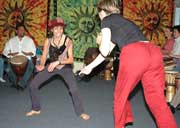 Ray Pereira has performed and recorded with Kate Ceberano, Paul Kelly, Tommy Emmanuel, Christine Anu, Vince Jones, Yothu Yindi and many others. Ray has studied with many of the world's top drummers (including Ghanaian master musician Nii Tettey Tetteh), and is a recognised expert on West African and Afro-Cuban drumming styles. Ray lives in Melbourne, where he runs numerous percussion workshops, whilst performing and recording with local artists.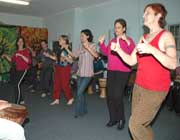 Ray's most recent projects include Zebra Crossing - a collaboration with Leo Dale and Valanga Khoza; and a fusion of Sri Lankan and African drumming with Sri Lankan percussionist Maha Bera.