Northern Beaches Music Festival 2015

Fri 9th, Sat 10th & Sun 11th Oct 2015
By Paul Robertson
Posted Saturday, July 18, 2015
Welcome to the fifth Northern beaches Music Festival to be staged this year at the beautiful Collaroy Beach Reserve from the 9th to the 11th of October, featuring music genres such as blues, folk, country, jazz, rock and world music.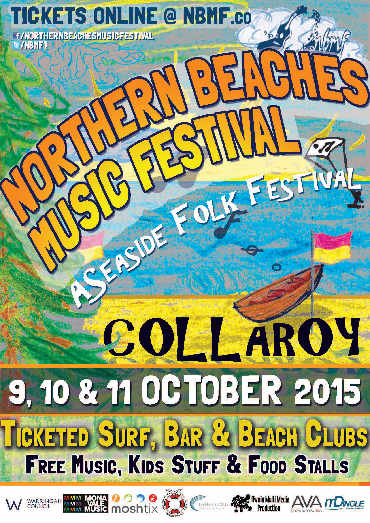 Our line up this year features artists from all over the world including: The Hollands! (US), Anne Ridgway, Belle Jar, Christina Crofts, Luke Escombe, Dave Calandra, Folklore, Helmut Uhlmann, Jackie Brown Jr, SNEZ, Daddy Longlegs, The Mezcaltones, Mutual Acquaintances, Peter Miller-Robinson and many more.
Our festival is the product of the Northern Beaches Music Alliance, a group of four "not for profit" music clubs from the Northern Beaches, namely The Shack, Narrabeen, Fairlight Folk, Humph Hall, Allambie and The Fig, Manly, who all got together in 2010 to develop mutual cooperation based on shared aims and objectives, which are:
to promote, produce and present musicians and performing artists, especially those from the Northern Beaches;
to provide venues for such performances and to promote and develop new venues on the Northern Beaches and
to support, nurture and present new up and coming musicians and performing artists especially those from the Northern Beaches.
This year we have a change of venue, the beautiful Collaroy Beach Reserve - Collaroy Surf Club, Collaroy Beach Club and the Collaroy Hotel. All of these venues and their members and clients are directly involved in this community event as well as providing sponsorship and support for which we are very grateful. The surf club's involvement will also feature demonstrations of life saving techniques and a fundraising sausage sizzle.
We have knocked down the fences and made it far more open and friendly with many more things free to the community. Our first stage is the Marquee on Collaroy Reserve under the beautiful Norfolk Pines surrounded by park and sea. A small picket fence creates a defined alcohol consumption zone with ticketed entry only but you will be able to see and hear the music for free!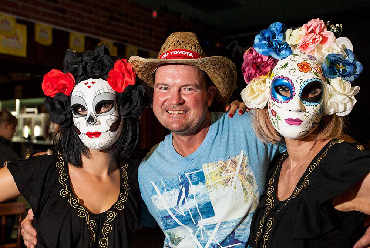 As usual we feature a host of international food stalls plus disability friendly activities. The reserve also features a brand new children's play area with kids & family activites and games free of charge.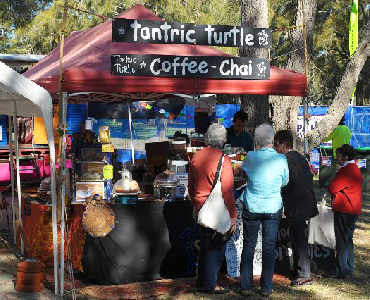 Again this year our friends from the Tantric Turtle are on board providing coffee, chai and cakes and their own inimitable style of free 'Chalkboard' music presentations.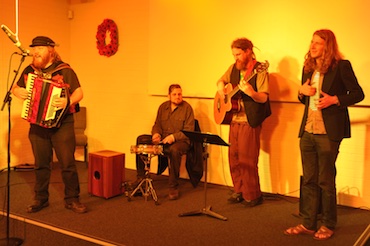 We also have lots of free family and community stuff with:
dancing, food and culture from our local Serbian and Nepalese communities (including fund raising for earthquake victims in Nepal)
'The Vegetable Plot', a brand new children's musical penned & presented by Luke Escombe (each day at noon in the Surf Club)
plus wandering minstrels, Morris dancers, face painting and clowns with balloons!
But most of all, I know you will enjoy the remarkable talents of our numerous performing artists!
For more information send us an email or visit the Northern Beaches Music Festival web site.