Music @ The Shamrock
Great line-up of music to delight!
Sunday 2nd October 1pm - 4pm
By Pam Merrigan
Posted Monday, September 26, 2005
Sundays at the Shamrock Inn are back in full swing this weekend, Sunday 2nd October from 1pm – 4pm and it's still the best value folk venue in town. IT'S FREE!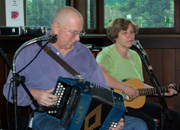 Resident musicians Gael mόr, just returned from a highly successful tour of Ireland and Scotland will delight you with their wonderful mix of songs and tunes, and the Sydney Irish Ceili Dancers will also be dancing up a storm. You'll also have the opportunity to meet Ireland Downunder host Gerry Faulkner with his own style of the blarney!
Springtide Unique opportunity before China tour
Sunday will also be a one-off opportunity to hear Springtide before they head off on their tour of China in October. Sydney based Springtide have been delighting audiences with their unique sound for nearly a decade and combine the talents of Jackie Luke on Hammered Dulcimer, and Greg Wilson on Celtic Harp. They also add bouzouki, accordion, concertina, whistle, and lilting vocals and, on this occasion they will be joined by Colleen Walton on guitar, bodhran and vocals.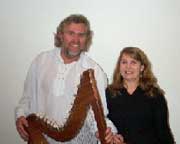 A concert with Springtide is a wonderful mix of music which might feature jigs and reels from French Canada or Scotland, music by Turlough O'Carolan, Greek songs accompanied by harp, or a song by a contemporary Australian songwriter arranged for bouzouki and accordion.The breadth of Springtide's repertoire means that they have wide appeal.
The Shamrock Inn, is an Irish Pub in Asquith Leagues Club, (and no, it's not in Asquith) it's in Alexander Parade Waitara. You can get there by train via the north shore line to Waitara Station. Exit left into Alexandra Parade and you'll see the Club and Shamrock Inn 100 yards on the left. If you come by car there's plenty of parking.