Glenn Cardier at Hornsby

Hornsby - 17th June 2005
By Barry Parks
Posted Tuesday, May 31, 2005
April folk club was one of those special nights with guest Les Barker. His lay back style and delightful accent combined with his hilarious poetry had the audience in stitches. With a full hall the volume of laughter attracted some local residences. I guess that is one way of getting people to a folk club. Everyone comment on what a great night of varied entertainment it was! Thanks Les - do come again!
Coming up in June we have the folk roots singer: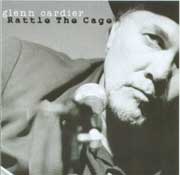 Back to performing after a long break he and has just returned from a tour with the new Spike Milligan doco I told you I was ill and will be at Hornsby on Friday 17th June.
Those with long memories might remember Cardier from the flowering of Australian singer-songwriters in the '70's. The more astute may have even noted his return via an interesting album of a few years back called Rattle the Cage. His latest CD Hall of Mirrors is receiving rave reviews as is his live performances:
You know something special is about to happen when the front row of the audience is overflowing with the headline musicians at the festival. So it was at Glenn Cardier's final concert at Chewton this year. - Andrew Pattison, music producer

. . . Glenn Cardier from Sydney made our jaws drop with his mad mix of black humour, tenderness and crafty songwriting that had every singer songwriter in the room transfixed in admiration and jealously! How did he do that? -
Kavisha Mazzella, musician

Hornsby Kur-ing-gai Folk Club
Beatrice Taylor Hall
Rear Willow Park
Edgeworth David Ave
Hornsby
The Club also presents Northside Folk - a one hour folk Radio show every Sunday morning from 9am on 2HHH 100.1 FM
For details email Barry Parks.