Martin Pearson & Liz Frencham in Humph Hall

7pm, Friday 27th May 2011
By Wayne Richmond
Posted Saturday, March 19, 2011
Martin Pearson is a very funny satirical performer. He has been amusing, even thrilling audiences around the globe for ages now, and if you haven't seen him live - you're missing out. He is a favourite at folk festivals all around Australia and on Friday 27th May you can come to Humph Hall and find out why!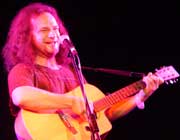 Martin tickles the funny bone. He has an ability to take current events and observations of everyday life, and turn them into side splitting comedy routines. He is also a fine singer & songwriter.

Comments by critics include:
You will love Martin for his quick wit in his political and social satire, some of which is a vehicle for his easy folk singing, self-accompanied on guitar.

Pearson is a seasoned trouper of the folk festival circuit and he reveres few sacred cows, neither Prime Minister nor Pope all are grist to Pearson's musical mill and get the treatment from his creative pen.

He is a good yarn-spinner, and time passes quickly, as it does when you're having fun.

Variety and wit and effortlessly polished vocal performances. Martin has the outstanding ability to engage the audience, swapping banter and taking them on a wonderfully varied trip. One moment there are members of the audience rolling in their chairs and the next, you could hear a pin drop while they're spellbound by a simply sublime performance.

Visit
Martin Pearson's web site.
Check out this YouTube video.
Liz Frencham embraces her double bass like a lover & invites you along a journey through a luminous emotional landscape, reassuring you with a warm, generous voice and a smile which has become her trademark.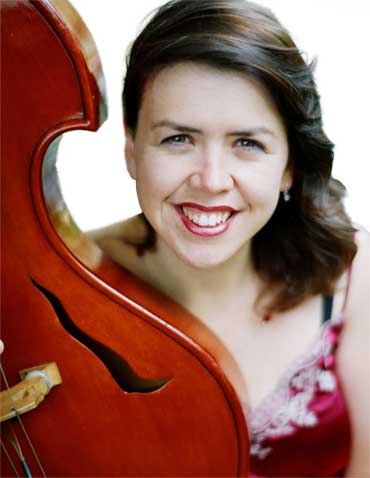 Liz studied Jazz performance at the Sydney Conservatorium of Music & has been working full time as a musician for over ten years. She is an experienced session double-bassist & vocalist who has been employed by household names like the The Waifs, & was once flown from Canada to England to add her distinctive style to an album for English songwriting team Chris While & Julie Matthews.
Her natural habitat, however, is the stage. She has become an audience favourite on the music festival circuit whether performing alone, with Sydney band Jigzag, award winning songwriter Fred Smith, Melbourne's first all girl Old Timey outfit Dev'lish Mary, iconic vaudeville showman Mic Conway or 2008 National Flat pick guitar champion Robbie Long.
From the opening notes of Liz Frencham's CD you & me Vol. 1 you know you are in for a rare treat. At times the music floats as gently as a breeze from a moth's wings at others Liz soars like a butterfly on steroids – but always with great sensitivity and beauty. All of which is made more extraordinary by the fact that she is playing the double bass. Such an instrument asks a lot of a musician. It is not simply plucked, bowed and stroked by Frencham. Her double bass is an extension of her body and indeed to watch her play is to watch an erotic performance where musician and instrument are as one. (Sandy Mc Cutcheon - ABC Radio National)

Playing, composing and singing; this girl has it all. The only note of caution – put the bottle of wine beside you because once Liz Frencham has you, she doesn't let go – not for a minute.
Visit
Liz's web site.
Check out this YouTube video.
Suggested optional donation: $25/$15
Call or email Wayne (02) 9939 8802 to reserve your seat.
Humph Hall
85 Allambie Road
Allambie Heights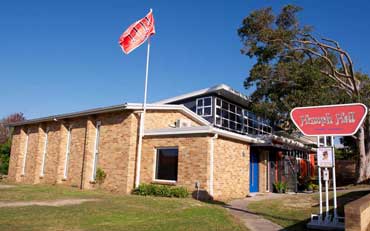 Formerly the Allambie Heights Uniting Church, Humph Hall is now the private home of Gial Leslie and Wayne Richmond.
As with all concerts in Humph Hall, Martin Pearson & Liz Frencham will perform acoustically - no PA system!