Acoustic Cabaret with Nick Rheinberger in Humph Hall

7pm, Saturday 17th July 2010
By Wayne Richmond
Posted Monday, June 28, 2010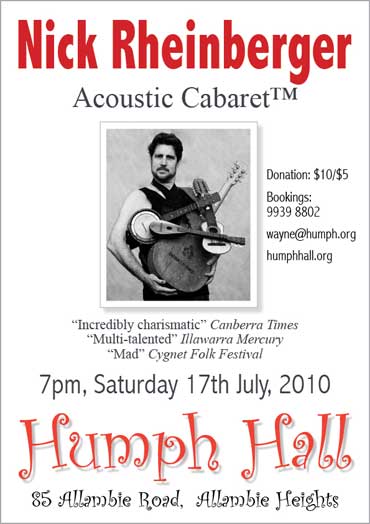 Nick Rheinberger is one of Australia's most versatile entertainers, regularly performing solo, with a swinging blues band, in front of kids, as an MC, a poet, an actor and a comedian, as well as holding down a day job as an ABC radio announcer. At Humph Hall, Nick will be playing his vintage galvanised iron guitar and a collection of small instruments which barely fit his oversized hands. It will be a two-part show full of blues and hollers, poems and yarns, belly laughs and singalongs, Nick will be accompanied by the always-elegant Andrew Rankin on the double bass, and his albums "Do Tell" and "Short and Sour" will also be available after the show.
Visit the Nick Rehinberger's MySpace web site.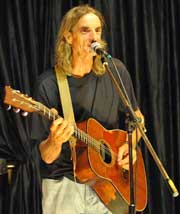 The support act will be The Dingle Brothers featuring Harry Dingle, one of the Australian folk scene's best kept secrets. His voice is strong and sonorous and his intricate guitar playing is a joy to hear but it is his highly original songs, which range from the sublimely beautiful to the ridiculous, that make Harry truly exceptional.
Harry will be performing with some of his sons.
As with all concerts in Humph Hall, Nick Rheinberger and The Dingle Brothers will perform acoustically - no PA system!
Entry by donation: $10/$5
Call or email Wayne (02) 9939 8802 to reserve your seat.
Humph Hall
85 Allambie Road
Allambie Heights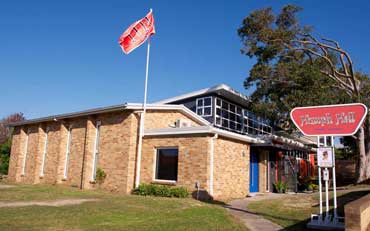 Formerly the Allambie Heights Uniting Church, Humph Hall is now the private home of Gial Leslie and Wayne Richmond.