Greg Quill Tribute Night

7.30pm, Saturday 7th September 2013
By Roxana Jarolimek
Posted Wednesday, May 15, 2013
The Tramshed
1395a Pittwater Road
Narrabeen
(In between the Ambulance Station and Car Park of Narrabeen Shopping Centre)
A musical tribute to the late Greg Quill, exceptional singer/songwriter and co-founder of The Shack in the 1960's.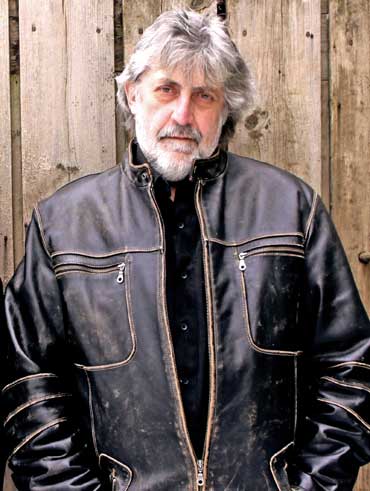 Coffee and tea is available but BYO refreshments and nibblies.
Cost: $30 to cover costs.
Limited seats available - Prebooked tickets only from Moshtix.
Inquiries: Rhonda (0413) 635 856 or (02) 9981 1741
Artists: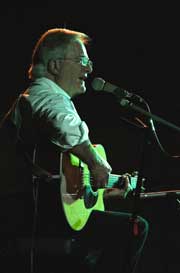 Mike McClellan - Mike's songs have earned him an honoured place in the history of Australian music. Writer of "Song and Dance Man", a renowned guitar picker with a voice that just keeps getting better, Mike has taken to the road again, touring regularly and writing new songs with a new album just released. This will be his first appearance at The Shack since the 1960's and we are excited to have one of the great legends of the folk/country scene as part of the tribute to his contemporary Greg Quill.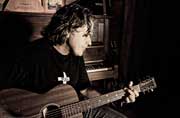 Kevin Bennett - Kevin Bennett, well respected singer/songwriter with the Sydney roots band The Flood, CMAA Gold Guitar award and Aria Nominee for 2006, writes relevant, contemporary Australian music containing the elements of Blues, Rock and Country-telling stories of where he's from and where he might be going. He sings his life. Kevin is a popular co-writer having penned songs with Troy Casser-Daley, Broderick Smith, Kim Cheshire, Felicity. His song "Paul Kelly's Blues" was nominated for APRA Song of the Year. Another of Kevin's songs, "Hello Blue Sky" recorded by The Flood reached the number one spot on the Country Music Chart. Kevin's acoustic shows reveal the essence of his songs as he takes the audience on an unpredictable musical ride where anything can, and will, happen. We welcome him back to The Shack and he is pleased to be able to pay tribute to Greg Quill. He will be joined by Kerryn Tolhurst on steel guitar.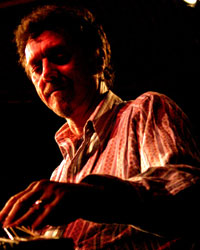 Kerryn Tolhurst - One of Australia's most successful songwriters, Kerryn Tolhurst joined Greg Quill's Country Radio in 1971 playing guitar, mandolin and steel guitar, their collaboration producing the hit songs"Gypsy Queen "and "Wintersong." He later on went out on his own and formed the band The Dingoes, which toured and recorded in the USA, where he made his home, in New York ,for 25 years. There he continued producing, recording and writing and had hits with The Little River Band and Pat Benetar. In recent years he recorded an album with Greg Quill and they did an Australian tour together.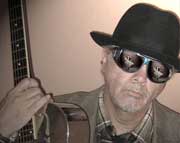 Glenn Cardier - In the 70's Australian singer-songwriter/guitarist Glenn Cardier produced three albums of highly original folk/rock songs. He played at the first two Sunbury festivals and worked with the likes of Frank Zappa, Spike Milligan and Fairport Convention. He wrote songs for Olivia Newton-John and broke in through the tough UK folk circuit. Post 2000, Glenn Cardier's re-emergence as a songwriter/performer of real distinction has been nothing short of extraordinary. On stage there are trademark flashes of stark beauty and thumping rockabilly/blues. There's a touch of Beefheart in his voice, a hint of Cohen in his lyrics and a pinch of Elvis here and there. We are lucky to have him come and play in this tribute to his old friend and musical colleague, Greg Quill.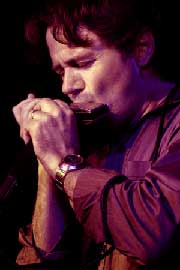 Christian Marsh - Christian marsh is one of Australia's finest harmonica players playing both diatonic and chromatic harmonicas. Starting at the age of 14 Christian studied harmonica with serious dedication. He has a multitude of sessions to his credit over many years and has played a wide cross section of styles. He has featured in many stage musicals and he has performed Sven Libaek's Harmonica Concerto with a number of different symphony orchestras. His composition "Five Islands"was awarded "Best Instrumental" at the ABC Newcastle Music Awards. He has won Gold Harmonica Awards and has played as a guest artist on over 40 albums. He will team up with his friend and musical colleague Glenn Cardier in this tribute concert.
Linda Keene & Brian O'Toole - Linda began her singing career at The Shack in the 1960's, at the age of seventeen where she joined up with Brian O'Toole and David Cooper of The Charade, who later became the resident folk group on the popular television show Bandstand, having won Vocal Group of the year award in 1971. Her career has been balanced with motherhood of four children and for the last 23 years she has been singing regular gigs in and around Bathurst and travelling around NSW. She has recently begun songwriting and will perform one of her songs which Greg Quill particularly liked. She was a long time friend of Greg and it is wonderful to have her back at The Shack where she began accompanied by long time friend and member of the Charade, Brian O'Toole. After The Charade broke up in 1972, Brian took himself back to Uni and came out with a PhD in Psychology. But he teamed up with Linda and worked the clubs across Australia until 1985 as a vocal duo. His work as an epidemiologist with a sub-specialty in mental health has been mile-posted by the Australian "agent orange" scientific study in the early 1980's. He is an expert in post traumatic stress disorder and psychiatric epidemiology. Still involved in music he will once again join Linda and they will play together in this Shack tribute to Greg Quill.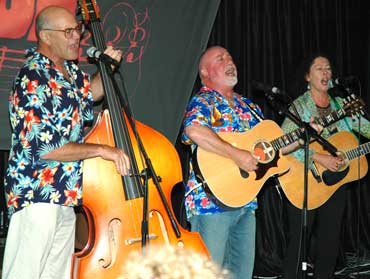 The Spasm Band - The Spasm Band is the Shack's resident band, all having hailed from the early Shack. They have all been in various bands over the years and play a lively mix of Jug Band, Blues and Roots with strong vocals of Andy George and Rhonda Mawer and Andy's talented guitar playing, Graham Vick on vocals and double bass and Chris Blanchflower, virtuoso harmonica player who also played in Greg Quill's Country Radio. They liven up the place with their good time music and irreverent take on the world.
Greg Quill was one of the founding members of The Shack and the first president of The Shack- Folk Arts Co-operative. He was the compere and resident performer at The Shack when he formed the acoustic trio Country Radio which later developed into a larger successful country /rock band and had several hit songs including "Gypsy Queen." In the late 1970's Greg moved to Canada to pursue a musical career. His skills in journalism eventually secured him a job writing for the Toronto Star where he continued working until his recent sudden death, which has saddened many people around the world. In the last ten or so years Greg returned to performing and writing songs and we were lucky to see him back in Australia for several musical tours and delighted to have him back at the "reborn" Shack where he played to a packed house and was joined by his old Country Radio musicians Orlando Agostino and Chris Blanchflower. This concert will see old friends, original Shack performers and exceptional musicians who had great respect for Greg as a songwriter, musician and as a person, pay tribute and farewell to him.