Equus, The Love Machine & Sako Dermenjian & The Groove at Fairlight Folk

7.30pm, Saturday 18th February 2017
By Rosie McDonald
Posted Monday, January 16, 2017
Fairlight Folk Acoustic Lounge
3 William Street
Fairlight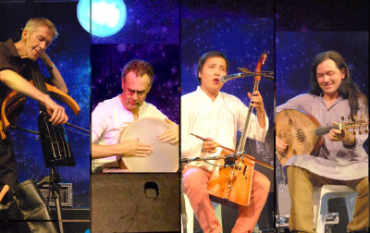 Coming up at Fairlight Folk Acoustic Lounge on 18th February:
Equus - We are delighted that Bukhu is coming back to play at Fairlight folk with his excellent band Equus! Equus is a gathering of 4 musicians of very diverse musical and cultural backgrounds, Equus' debut album Dakshin Khun (Southern Man) focuses on the traditional music of Mongolia, sung by world renowned Mongolian throat singer Bukhu, fused with Middle Eastern strings and wind and a dynamic rhythm section, with a strong component of improvisation to making each performance a new experience, the result is often hard to define, but always spectacular and unique. Joined by well known Blue Mountains musicians John Robinson (Oud, Turkish Baglama) and Peter Kennard (Percussion), as well as Double bass extraordinaire Bertie McMahon. This music is about meetings, of people and traditions, and of musics. EQUUS is a bold, imaginative music project that succeeds in the formation of an entirely new sound. These are the traditional songs of Mongolia played as you have never heard them before. described as ...."One of the most evocative albums I have heard ...This is pure musical pleasure, exciting, fun and challenging, all at once." Music Forum magazine.
The Love Machine - Andrew and Sue Hoyle and friends are old hippies at heart. Out of the 60's & 70's music explosion of love and peace people realised they needed to "get together and love one another right now" and "love is all you need". It was a simpler time when it was the most natural thing to drop into any open house party on the Northern Beaches and jam along to the current tunes which everyone knew. Long before everything became digital, frenetic and fragmented .Love machine can get political when necessary, but don't worry it's always with an inclusive, positive message. Think Joni, Marvin and CSNY, add a dash of jazz, blues and soul and you're in the right zone for a date with The Love Machine. Andrew and Sue are our soundies at Fairlight folk so our original soundguy Cameron ,is stepping back in to take over the dials for the night.
The Groove - Sako Dermenjian: An up and coming young classical guitarist from the Illawarra is now joined by 2 friends. The creative forces of Armenia, Woonona and Culburra Beach combine into the amorphous fusion that is The Groove playing flavours from flamenco to blues and latin to israeli and all sorts in between. "We jam. We fuse cultures. We laugh. We play fast. We sing. We have fun. We are The Groove".

Jaden Spence - singer songwriter.
Sako Dermanjian - flamenco & classical guitarist extrordinaire
Damo - afro drums, elemental Grooves
https://www.facebook.com/sakodermenjianguitarist/
Entry
by donation
$25 per adult
$20 concession and Folk Fed members
Tickets at the door, first in best seated.
Tea, coffee, bikkies etc.
BYO food, favourite drink.
Fairlight folk acoustic lounge is a not for profit venue run by musicians for musicians. Run quarterly for the past 6 years, FFAL has seen performances from many fine interstate and international performers and has become a greatly anticipated event. With a candlelit ambience and red leather lounges, cafe style seating and lovely acoustics this gallery/church in Fairlight is a BYOG affair. Tea,coffee and soft drinks available.
Information: (0438) 091 885 or visit our web site.