Mothers of Intention at the Fairlight Folk Lounge

7.30pm, Sat 12th May 2007
By Rosie McDonald
Posted Tuesday, April 10, 2007
The Mothers of Intention launch their new CD Watersong at the Fairlight Folk Acoustic Lounge.
The Mothers of Intention are a spirited four piece band sharing a love of music and an enduring friendship. With vocals, guitars, fiddle, mandolin, recorder, bodhrans and doumbek. Our extensive repertoire includes a vibrant mix of Celtic, Folk, Original and Folk inspired covers. From Irish standards, soulful ballads sung in three part harmony to fast jigs and reels and slow airs. An eclectic mix of music to dance or listen to. They have been together for six years and are a popular band being regularly booked at Folk Festivals, Clubs, Community events, weddings, Celebrations, Corporate and private functions. The ' mothers ' have a warm presence on stage and the music appeals to a wide range of people, from the young through to all ages. MOI can adjust the repertoire to suit all occasions, from subtle to energising.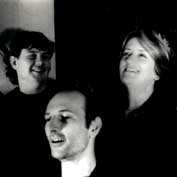 Triantan ('triangle') are the vocal trio Judy Pinder, Miguel Heatwole and Anthony Woolcott, doing mostly traditional Celtic songs some in Gaelic, with strong voices, harmonies and rhythm, nicely judged bodhran accompaniment, and strong visually with the two men in magnificent plaids flanking Judy in black.
"Triantan are a wake-up call for anyone who thinks Celtic music is misty stuff sung by over-dubbed females who look and sound as though shamrock is a narcotic. Triantan's robust material ranges from fun slip-jigs and tragic love to warrior-stuff that would make a Haka quail." (Chris Clarke, 2005)

Also on the program will be Dave Spira and Celtic Dancers.
The Fairlight Folk Lounge is located at:
Old Church-William St Studios (off Sydney Rd @ Fairlight Shops)
Leather lounges, candles, great ambience. Venue is BYO drinks & nibblies. Tea, coffee & bikkies available.
Entry is $10. Bring instruments for an after show jam.
For more information contact Rosie on (02) 9948 7993