The Stiff Gins at the Fairlight Folk Lounge

7.30pm, Sat 12th August 2006
By Kathleen Swadling
Posted Monday, August 7, 2006
Small Boat Big Sea in association with The Mothers of Intention present the 4th Fairlight Folk Acoustic Lounge.
The Stiff Gins are Nardi Simpson & Kaleena Briggs. In the 7 years since their first meeting at the Eora Centre in Redfern, Stiff Gins have performed at cultural institutes in New Caledonia, Vietnam, Spain, been part of cultural exchanges to Tanzania, Uganda, Kenya, Egypt & Cyprus, played festivals and shows throughout Canada, the US, Ireland and performed extensively throughout Australia. Stiff Gins are through harmony & song, reclaiming a derogatory term for Aboriginal women, instead declaring it's meaning as proud, passionate & talented.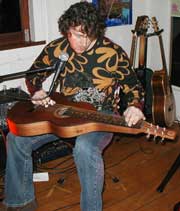 English acoustic blues/folk artist Phil Edgeley has just returned from a short tour to Queensland to promote his latest CD "This Life". Phil performs his songs on a variety of guitars ranging from straight acoustic to National Steels, and on to Weissenborn style lap slide, all driven by the pulse of his stompbox topped by an honest vocal style. His lyrics and songs are written from the heart and deal with the joy and pain of what life brings, based on his own experiences as well as those of others whom he has met along the way.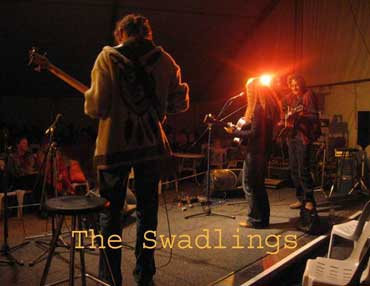 Drawing on folk roots, The Swadlings are a vibrant three - piece band performing original contemporary music. The strong lyrics weave stories and convey messages that are backed by a blend of rich harmonies, acoustic guitars, bass and violin. The Swadlings have over 60 original songs that they draw on for their performances that range from story telling songs to love ballads. In 2006 they produced their new CD "The Reason" we also showcase up and coming local performers.
The Fairlight Folk Lounge is located at:
Old Church-William St Studios (off Sydney Rd @ Fairlight Shops)
Leather lounges, candles, great ambience. Venue is BYO drinks & nibblies. Tea, coffee & bikkies available.
Entry is $10. Bring instruments for an after show jam.
For more information contact Rosie on (02) 9948 7993