Calling Leonard Cohen nuts
8 week course commencing
Thurs 2nd Aug 07 (7.30-9pm)
By Christina Mimmocchi
Posted Wednesday, June 20, 2007
Choir on a Wire
If the man who 'Came So Far For Beauty' is your thing, you may be interested in the following . . .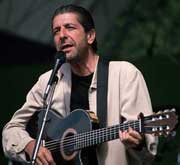 North Sydney Community Centre is presenting a seven week singing course on the Songs of Leonard Cohen. The first week is a (free) screening of the recent film "I'm Your Man" (it's free, but bookings are essential). The subsequent six weeks will be singing arrangements of LC's classic songs. These will probably be a cappella but a guitar, double bass or accordion might find their way in occasionally. The musical director is Christina Mimmocchi, who read the ad for the position with great amusement before realising that she has been preparing for this task for 20 years!
Tons of people have come forward with requests and you can be assured that all the classic gems you know and love will be there.
Choir on a Wire commences on Thursday 2nd August with the film night. The singing starts 9th August and meets 7.30-9pm.
The cost of the course is $80.
North Sydney Community Centre
Civic Park
220 Miller St (behind Stanton library)
For details and bookings visit the web site.
Go forth!
Christina
0410 682061