Leon & Toni at North By Northwest

8pm, Thursday, 5th July 2007
By Jenny O'Reilly
Posted Monday, June 4, 2007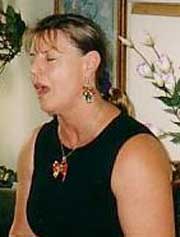 Leon Rabin and Toni Davies just love singing together, and it shows in their obvious enjoyment of what they are doing on stage. They have a great time and it is so infectious that their audiences become very involved. Leon plays guitar and sings one melody, Toni sings another, in glorious close harmony, and it all comes together and sounds great! Their repertoire is drawn from traditional and contemporary folk music and this time around they have a backing guitar and bass player which rounds out the sound wonderfully.
Their style is relaxed and humorous, and of course there are always songs to sing along with so that everyone gets to sing. They say that the sound of a bunch of people singing out together is one of the loveliest, and folk club audiences are the best singing audiences in the world.
Someone once said that in order to stay alive, songs need new voices to sing them in places they've never been sung before, and Leon and Toni certainly carry on the tradition. The songs are timeless - the topics are ones we know so well - love, work, travel, joy, sorrow - all the facets of life – in songs from 100 years ago and the wonderful songs being written today.
Leon and Toni have one CD out and there is one which is at the moment a work in progress.
Entry is $12/$10. Refreshments are available and BYO's are welcome. We also have space for some floorspots!
North By Northwest Poetry and Folk Club meets in The Cornucopia Cafe, and is one of the best acoustic venues in Sydney. There will be refreshments for sale and BYO's are welcome.
Cornucopia Cafe
Old Gladesville Hospital
Corner Victoria Road and Punt Road, Gladesville
For directions see this article.
Enquiries: Jenny/John (02) 9559 3658 or (0414) 903 259, Tony 9858 7882 or (0409) 784 689.
See you there!