George Papavgeris + Cloudstreet at North by Northwest

Sunday, 9th April 2006, 2pm
By Jenny O'Reilly
Posted Saturday, April 1, 2006
These two fantastic acts are here for the National Folk Festival, and this will be their only Sydney performance, on the Sunday afternoon before the National.
Here is an opportunity to meet and see them in a more comfortable and relaxed atmosphere.
Space in the Cornucopia is limited, and some bookings have already been taken, so if you haven't booked yet, it is strongly recommended that you do!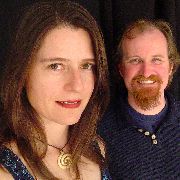 Cloudstreet - Hot Harmonies and Beautiful Ballads! John Thompson and Nicole Murray are the Australian duo, Cloudstreet.
With their warmth, talent and loving stage presence, they make their audience feel that they are the privileged viewers of something very special.
Combining contemporary arrangements of traditional ballads with original songs in a traditional style, their magic is marked by their dazzling vocal harmonies.
Lately they have been wowing audiences in the UK, so we haven't been seeing much of them. Here's your chance!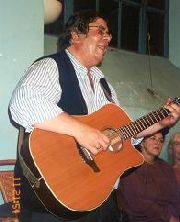 George Papavgeris (also known as "El Greko" in the Mudcat Cafe) - a UK songwriter who sings the praises of ordinary people. He was born in Salonika, Greece, but has been a folkie in England for over thirty years.
Relatively recently he took up writing songs which have had people like Andy Irvine, Robb Johnson, Roy Bailey, Martyn Wyndham-Read and Vin Garbutt seeking to perform them.
His well crafted songs have that instant "trad" feel about them, choruses you just fall into and insightful commentaries on the lives of ordinary people.
choruses you just fall into
And - like the best songwriters - there's a range of emotions and no shortage of humour.
"George is something special..." Martin Carthy MBE.
If you saw him on his last visit, you won't need convincing!
Entry this time only $15/$12.
Some floorspots are available also. To book for this concert either email or ring Jenny.
North By Northwest Poetry and Folk Club meets in The Cornucopia Cafe, and is one of the best acoustic venues in Sydney. There will be refreshments for sale and BYO's are welcome.
Enquiries - Jenny/John 9559 3658 (h) / 0414 903 259 (m) jdcarter@iinet.net.au , Tony 9858 7882 (w)/0409 784 689 (m).
See you there!