Turning Wave Festival Sydney Launch

7.30pm, Saturday 15th August 2009
By Pam Merrigan
Posted Thursday, June 4, 2009
This year, in what will be a first, we are holding a Festival Launch for the Turning Wave in Sydney at the Irish Gaelic Club Level 1 / 64 Devonshire St. Surry Hills.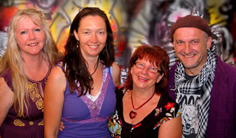 A month out from the main event the night will feature some of our 2009 festival performers and will be a great little taster for September. We will also be unveiling our 2009 Festival Compilation CD featuring music from 15 festival acts including 5 previously unreleased tracks. It will be a night full of surprises and fine music with award winning, Celtic inspired folk group, Mothers of Intention (pictured), plus Peter Mace, Mary McEvilly & Mark Anderson, Cameron Mather, michael-john azzopardi, Coolfinn Mac and more. Doors open at 7pm with the first act on stage at 7.30pm. Tickets are $15 at the door though booking is highly recommended.
Cosy folk club atmoshpere
The Irish Gaelic Club has recently had a make over and the atmoshere is cosy and welcoming. There is also a bar where you can puchase drinks at club prices and they even have the black stuff on tap and it's a nice drop. Join us for what will be a brilliant night or music and song.
If you would like more information regarding the TWF Sydney Launch on Sat 15th Aug, or you would like to book email or call (02) 9489 5786
Early Bird Tickets are now on sale for Turning Wave (15-20th Sept.) and the Festival delivers excellent value. Visit our web site for all the latest news and information.