The Roaring Forties sing songs of Cicely Fox Smith

7.30pm Thursday 29th March 2007
By Margaret Walters
Posted Saturday, March 10, 2007
James Craig
Darling Harbour
Enquries: (02) 9698 2206
Shellback Sheila - Cicely Fox Smith's verse and song of the working lives of sailors with The Roaring Forties
An' it's Haul away, girls, steady an' true
Polly an' Dolly an' Sally and' Sue,
Mothers an' sisters an' sweethearts an' all
Haul away, all the way, haul away, haul!

Sounds like a traditional shanty or at least one by a regular Old Salt. And indeed, the writer, known as C. Fox Smith, captures the idiom of the sailors so perfectly that it comes as a surprise that the author was a woman - the "C" stands for Cicely (pronounced as in precisely). She was born in 1882 and published her first book of poems at 16. She was writing around the time of Rudyard Kipling and shares many qualities with that author - a vast quantity of songs and short stories that paint vivid pictures of real working folk, particularly sea folk and World War I soldiers.
Cicely (1882-1954) spent 9 years in Victoria, British Colombia and was an intimate observer of life in the lumber mill and shipping ports on the North West Pacific coast, as well as the London docks. While her writing was predominantly of the sea, she wrote about the war, travel books, children's books with her sister Madge, and published pieces in Punch and other literary magazines. Her brother Phil illustrated many of her publications.
No drawing room Victoriana here! There's a racy quality to Cicely's poems and an empathy for humanity that the more lofty-minded poets of the Victorian era do not show. So it's natural that folk singers would be drawn to her work, putting tunes to the poems, and making them a part of their repertoire. Members of the Sydney group, The Roaring Forties, have put together a selection of Cicely's poems including those they have put tunes to, and others from UK (Alan Fitzsimmons, Sarah Morgan and Dave Webber), and US composers (Tom Lewis and Charlie Ipcar).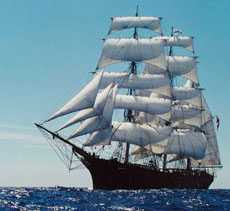 The presentation covers many aspects of life on board the clipper ships: crimps like Shanghai Brown; sadistic mates like the "Peaceable Samuel S. M'Gee"; the urge to sail Sou' Spain once your payroll's spent and gone and you've pawned your oilskins and sea chest; rounding the Horn in a freezing gale; divvying up the possessions of a drowned companion; furling the sails and coiling the ropes at the end of a journey.
The Roaring Forties look forward to sharing their fascination with this remarkable writer. Most of the songs have choruses – so come and join in - chorus sheets available.
Thursday 29th March 2007 from 7.30pm on board the James Craig, Darling Harbour.
Enquiries: (02) 9698 2206.