The Renaissance Players celebrate two anniversaries

7pm 6-7th June 06, Sydney Uni Great Hall
By Wayne Richmond
Posted Wednesday, May 10, 2006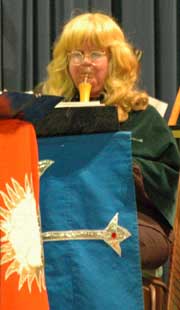 In the year 2006, the Renaissance Players will be celebrating two anniversaries.
Firstly, this year marks their presentation of the 30th Runnymede Pop Festival - a unique concert mediaeval music and poetry, performed in the neo-Gothic splendour of Sydney University's Great Hall, which will be decorated with banners and wall-hangings. The wide and varied range of mediaeval songs, popular dance music and postry will be performed by two singers and seven multi-instrumentalists playing plucked, bowed, blown, percussed and keyboarded instruments of the period, all dressed in colourful costumes.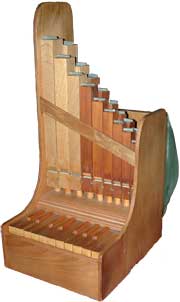 The instruments will include harp, sinfonye, psaltery, portative organ, rebecs, vielles, chitarra moresca, gittern, mandora, ud, diwan saz, duct flutes, gemshorn, whistles, shawms, bells, tapan, daireh, darabukka, tambourine, finger cymbals and so on. And as the concerts are strictly acoustic, you will get to hear the actual sounds of these instruments!
The 1st Runnymede Pop Festival took place in the Great Hall in 1973. This was also the first occasion at which Frederick May, the founding Professor of Italian, performed with the Renaissance Players as their eccentric, erudite and creative reader. David May and Christopher May will both be performing, as reader and baritone, respectively, at the 30th Runnymede Pop Festival taking place on at the same place at 7pm on Tuesday 6th and Wednesday 7th June. This will also be the debut concert of the amazing counter-tenor Russell Harcourt (whose mentor, Graham Pushee, joined the Renaissance Players in 1974).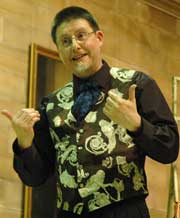 In 2006, the Renaissance Players will also be celebrating the 40th anniverary of their first concert which was performed in September, 1966 in the Great Hall.
I wasn't with the group at the time of the 1966 concert, but I was in the 1st Runnymede Pop Festival and it was a very exciting time indeed. I remember helping Winsome paint promotional murals on the wall of the University's famous 'tunnel' and putting posters up everywhere.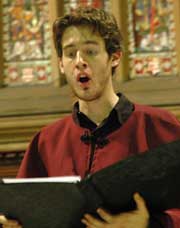 With tickets only being sold at the door, we had no idea how many people would be intrigued enough to attend a mediaeval 'pop festival'. As it turned out, we needn't have worried as not only was every seat in the not insubstantial Great Hall occupied but was there were also people standing along all of the walls and even behind us on the stage.
It is hard to believe that it was 33 years ago!