Sing we now merrily!

Carols workshops with Nadia Piave
By Wayne Richmond
Posted Friday, November 4, 2005
A Course in Christmas Cheering!
Bring three friends and form your own quartet!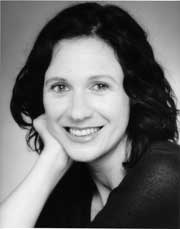 6.30-8.30pm, Wednesday evenings (4)
23rd November - 14th December 2005
Mechanics' School of Arts
Pitt Street (near Bathurst)
Sydney
Cost: $120 (all materials supplied)
Put some falafel in your falalas - meaty, spicey carols to the world!

House Music & Bar Humbug!
Nadia Piave's Singing Classes are good for you!
Alternatively, get some friends over who can hold a tune and have a Carolling Workshop in your home. Organise a Carol Octet amongst your colleagues for the office Christmas Party.
All sheet music materials supplied.
Cost: $220 per two hour session.
Contact Nadia Piave on (02) 9247 7065