Sing Cockatoo

Cockatoo Island, Saturday & Sunday 6-7 November 2010, starts 10am.
By Christina Mimmocchi
Posted Saturday, July 24, 2010
Sing Cockatoo
6-7 November 2010
A weekend combining the joy of a cappella singing and the adventure of exploring Cockatoo Island.
Come together and learn and perform new songs in the atmospheric surrounds of Cockatoo Island, a location that is both remote and also in the centre of the city.
An opportunity to get away from it all and spend the weekend immersed in the living history of the island with like-minded people who want to sing.
Camping (tent city or BYO) is available for the full Cockatoo experience. Families are welcome.
Weekend includes singing workshops and performances around the island, free time to explore and evening activities (including a ghost tour).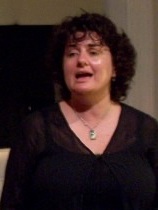 The musical director is Christina Mimmocchi. The songs taught will be either linked to the island thematically or conceptually. Some music will be written specifically for the occasion. She will teach songs together with Christine Wheeler and Tom Bridges. Special guest Margaret Walters will join us for the performances.
Singing workshops will be interspersed with body percussion and other related activities to keep the blood as well as the music flowing.
Contact for more info and registration forms:
Christina Mimmocchi: email or phone - 0410 682061
Pam Davis: 0412 730754
Kicking off on Saturday at 10am, singing, body percussion and soundscape-making workshops will run throughout the day. Experienced singers and song writers will teach songs related to the island, including some written especially for Sing Cockatoo. These songs will be practiced and performed as a group on Sunday 7 November in the historic convict precinct.
Stay overnight in a pre-erected or BYO tent on the waterfront campground or catch a ferry back to Circular Quay or other inner harbour wharves.
Camping information here - http://www.cockatooisland.gov.au/camping/index.html
Workshops are suitable for all ages and levels of singing experience.