Shanty Singalong at The National Trust

7.30pm, Wednesday June 28th 2006
By Sandra Nixon
Posted Thursday, May 11, 2006
If you prefer joining in to the chorus or even leading a song in front of a receptive audience, then why don't you give the James Craig Shanty Session a try ?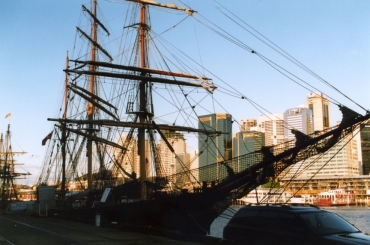 What a great session we had in May with Robin Connaughton of Sydney's own Roaring Forties, leading us through shanties and explaining some of the unique words in them.
But now for something completely different !
As a one-off special, the next James Craig Shanty won't be held aboard the James Craig, but ashore (for you landlubbers, that means "on land" ).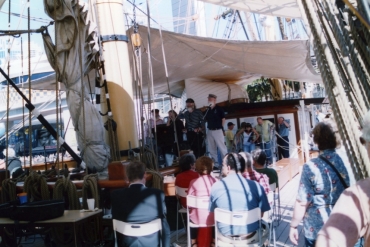 We've been invited by the National Trust to start to build a bridge between Sailors and Landlubbers. They will be providing juice/tea/coffee and some red and white wine.
So what better theme than "Sailors and Landlubbers" for our first land-based shanty singalong.
How did Shanties and Forebitters give birth to landlubbers songs and verse?
- "Strike the Bell" to "Click Go the Shears"
- "Spanish Ladies" to "Brisbane Ladies"
- "Across the Western Ocean" to "Across the Western Plains"
How did landlubbers songs and verse give birth to Shanties and Forebitters?
- James Parbery will go through a few modern adaptations he's made while on long voyages.
How did Sailors treat Landlubbers in their songs and verse?
- e.g. Charles Debden's "Sailors Consolation"
How did Landlubbers treat Sailors in their songs and verse?
- e.g. John Masefields "Sea Fever" or even the parody "Sea Heaver"
- John Warner of the Roaring Forties has agreed to lead this session.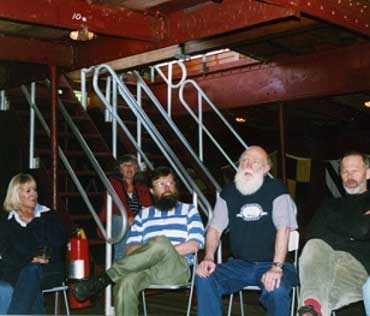 How to get to the National Trust Centre?
Driving: From Argyle St, turn into Watson Rd and follow it around past the Sydney Observatory to the National Trust Centre. Free parking is available here. The front door faces the Sydney Harbour Bridge.
Walking: Circular Quay is the nearest station. From Kent Street, you can walk up the steps next to the tennis courts. From Argyle St. you can walk up the steps (across from the Garrison Church) and up Watson road past the gazebo, past the Observatory, past the Fort St. Primary School.
If you have problems, call Claudia on (0414) 767 664.
James Craig Shanty Sessions are held on the 4th Wednesday of the month. If you have any ideas for future sessions please let us know.
Mike Richter (0419) 992 119 or (02) 9476 3861
John Warner (02) 9559 3658
(Shanty Co-ordinators)