Remembering Declan - Twenty years on

Harp Hotel, Sun 12th June 05
By Margaret Walters
Posted Sunday, June 5, 2005
Tribute concert to a folk icon, Declan Affley
No one who heard Declan perform could forget that sonorous voice, the pithy wit, the forthright rebel, the versatile musician. Many will be gathering to remember Declan, twenty years since his death at 45 in 1985. And those who did not experience Declan first-hand will get a vicarious taste from the performers paying tribute to him at the Harp on Sunday 12th June – the Sunday of the long weekend. Declan's widow, writer Colleen Burke will be there of course and their children, Bridie and Paddy with young Declan in tow. A concert to swell the heart.
Remembering Declan Affley - 20 years on
from 4pm Sunday 12 June 2005
The Harp Hotel
920 Princes Highway, Tempe 2044 (02) 9559 6300
Organised by the Folk Federation of NSW
Enquiries: Margaret Walters 9698 2206
(No reservations - first in - best dressed!)
Admission: $15 & $10 concession; children under 15 free. (Concession applies to Folk Federation members, students, pensioners etc.)
Free printed program and the posthumous Declan LP to all comers.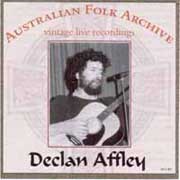 A CD titled "Declan Affley" was posthumously released in 2003 - first in a series titled Australian Folk Archive: vintage live recordings. The album was produced by Dave Brannigan, a cohort of Declan's from Melbourne and a remastering of live recordings of Declan made at folk clubs and concerts - complete with witty introductions, coughs and chair scrapings! and that matchless voice of Declan's. Copies of the CD will be on sale for $25 at the concert.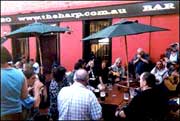 Getting there: The Harp is on the left - in the block before the bridge at Arncliffe as you head south. Parking is available in the car park behind the pub, or in Holbeach Ave down by the river. Public Transport: 422 bus from Circular Quay/Central/Newtown Station.
Structure: The four-hour concert will have 2 intervals and be followed by a session from 8pm Some artists will be contributing only 1-2 songs; others about 20 minutes. Anyone arriving spontaneously wanting to contribute can be hopefully be fitted in after the structured program, ie after 8pm
The draft program is as follows: Roger Hargraves, Margaret Walters, John Dengate, Margaret and Bob Fagan, Len Neary, Phyl Lobl, Peter Parkhill, Jeannie Lewis and Maurie Mulheron, Denis Kevans, Bobby Campbell and Sharon Frost, INTERVAL, Bob McInnes, Paddy Affley (Melbourne) and friends, Colleen Z. Burke, Mark Gregory, Kate Delaney with Craig Kelly, Martin Doherty with Leigh Burkitt, Helen Rowe (Brisbane), Judy Pinder, Bridie Burke and friends.
All artists will be providing their services for free. Proceeds from the concert will go towards a compilation recording of the work of the winners of the Declan Affley Award.
Those of you who have come to the folk scene since 1985 could well be bemused at the need some of us feel for a tribute to a larrikin Irish man twenty years after his death. Perhaps the biography by his widow, the poet & writer, Colleen Burke, which first appeared in Trad&now, Winter 2004, will give you a sense of the magic of the man. Mark Gregory has created a page on his Australian folk songs website.
The concert has been organised by the Folk Federation of NSW and Colleen Burke.
Enquiries: Margaret Walters.