New session starting at the Carlisle Castle

8-11pm, Saturday nights, Newtown
By Mort
Posted Monday, September 19, 2005
A regular music session is about to start up at an old and once very popular session venue in Sydney's inner west. From Sat 24 September the Carlisle Castle session will be held every Saturday night, 8-11pm. The Carlisle Castle is on Albermarle Street Newtown, which runs off Australia Street (off King), only a few blocks from Newtown Station. Both singers and instrumentalists are welcome.
For people not familiar with the Carlisle, it has a good room well suited for the purpose and hosted a long-lasting and very popular session up until a few years ago.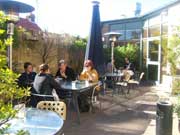 For more info email the author.