Mothers of Intention @ next Sult night

7.45pm, Wednesday 10th October 2007
By Pam Merrigan
Posted Thursday, September 6, 2007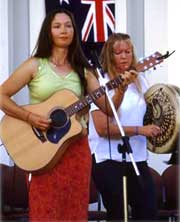 At the Gaelic Club this Wednesday.
Special guests at the coming Sult are the Celtic crossover band Mothers of Intention, a dynamic four-piece folk band,reinterpreting the classic Celtic folk songs and tunes. Lush three part vocal harmony, driving guitar, fiery yet soulful fiddle, lilting recorder and the steady bodhran heartbeat define the "Mother's" sound. They also perform original songs, tunes and eclectic covers, and their music ranges from peaceful airs to rousing jigs and reels through to
hauntingly beautiful ballads that speak to the soul.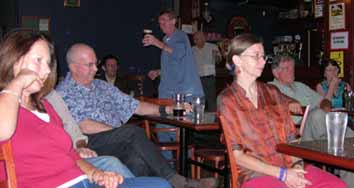 Our last Sult with "Who Shot the Sheriff" otherwise known as Robin Connaughton and John Warner was a night of sheer delight with many old favourites and some great new material. It was a treat to see these two fine musicians and singers coming together. If you haven't yet managed to get along to one of these nights you are missing some of the very best folk, trad. and contemporary music that Sydney has to offer and I urge you to get out of your comfort zone and come along to support them before they disappear altogether.
Sult nights kick off at 7.45pm with the house band. Special guests come on around 8.30pm. Floor spots always available but be early if you would like one.
Upstairs at the Gaelic Club, 64 Devonshire St. Surry Hills (just a stones throw from Central Station). Exit through the pedestrian tunnel from George St. into Chalmers St. and cross into Devonshire. It's on the left. Take the lift or the stairs to the first floor.