Millennium 8 - Making Poverty History

8pm, Saturday 14th June, 2008
By Nicky Lock
Posted Tuesday, April 8, 2008
This gripping production takes the audience through images and stories reflecting on the eight United Nations Millennium Development Goals. These goals were set by the countries of the United Nations in the year 2000 in order to halve world poverty by the year 2015. In 2008 whilst some progress has been made, in many areas progress is far from being on track to reach the goals by 2015. Amongst much talk of statistics and analysis, Breakthru' Artz seeks to keep the stories of real people in real poverty alive through dance, drama, music, photography and physical theatre, stirring us to ongoing action.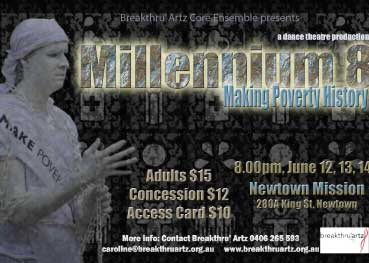 Originally staged in 2005 and 2006 as MAKE POVERTY HISTORY images and stories, "Millennium 8" keeps some of the original ideas with completely fresh material, new stories, new cast and fresh approaches for this 2008 production.
Newtown Mission
280a King Street
Newtown
Adults: $15
Concession: $12
Access Card: $10
For more info call Breakthru' Artz on: (0406) 265 593 or email Caroline.