John Dengate + The Lurkers + others @ The Roxbury

6.30pm, Sunday 24th August 2008
By Mithra Cox
Posted Monday, July 14, 2008
Sunday 24th August @ The Roxbury will be host to a very special evening of folk, rock, political, satirical & just plain great music & poetry.
Folk icon, master of the satrical & lyrical parody, singer-songwriter, poet, well known busker, tin-whistle player - John Dengate joins us for a very rare performance.
The doors open @ 6:00 pm with a nothing charge of $8!
yummy $7 roasts are on offer on Sundays!
under 18s are allowed to check out the show, as long as they are accompanied by a guardian over 18.
Kicking off the night, we have the notorious
Rex Havoc
singing a few of his classics, playing some spoons, perhaps some guitar & maybe even doing a few of his own satirical works.
Then we have the wonderful Ken McLean playing his great acoustic rock originals & possibly a cover or 2
John Dengate then takes to the stage for a set featuring some of his best known songs, a few newies plus some poetry and if we're lucky we may even be treated to some whistle.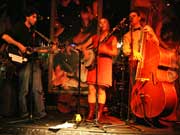 Mr Dengate is followed by Sydney 3 piece political rabble rousers The Lurkers aka Pretty Boy Floyd, Desert Rat Shorty & the Wayfaring Stranger rounding up the night to leave us feeling . . . well folked!
The place:
The Roxbury Hotel
182 St John's Road, Glebe

The times:
• 6:30 Rex Havoc
• 7:20 Ken McLean
• 8:10 John Dengate
• 9:00 The Lurkers