Jez Lowe & Kate Bramley @ The Gaelic Club

7pm for 7.30 start, Wed 29th February, 2012. 1st floor, 64 Devonshire Street, Surry Hills.
By Margaret Walters
Posted Thursday, January 26, 2012
Jez Lowe : singer/songwriter from north east England – touring downunder
Latest Album: Wotcheor!
Jez is a renowned songwriter from the north-east of England and a consumate performer. He tours regularly in Britain and North America. His songs have been covered by notable performers and he recieves commissions to compose songs for the new series of BBC Radio Ballads. Topics so far have included: Steel, Living with Aids and HIV, Hunting with Hounds, Travelling Fairs, Northern Ireland's Troubles, and Shipbuilding. Jez is currenly working on the subject of sports to be released at the Olympic Games later this year.

Jez's songs are rich in the culture and humour of his native County Durham. Powerful social comment underlies well-crafted lyrics and lush melodies.and he is a skilful musician.
On many of his dates on this Australian tour he will be joined by Kate Bramley, fiddler and a member of his band, The Bad Pennies. Kate is a songwriter in her own right, and she is also a theatre director; her skills in presenting plays to small theatres in the north of England and in Scotland have been applied to many musical performances by Jez and the Bad Pennies and other guests - taking traditional songs and his own music back to the people in an intimate way.
The concert starts with a 30 min support from The Roaring Forties.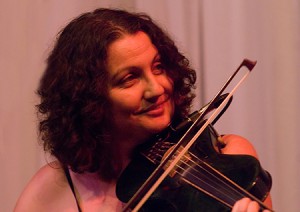 Admission $30 ($25 for Folk Fed Members)
Bookings/enquiries: Phone 02 9698 2206 Mobile: 0427 958 788