Jig-A-Jig-Jig
Introducing kids to folk music
Tues 15th - Sun 20th March 2005
By Sophie Hodges
Posted Thursday, March 10, 2005
Sydney Opera House presents

BABIES PROMS - JIG-A-JIG-JIG
In association with Ten Days on the Island, National Folk Festival & Port Fairy Folk Festival, the Sydney Opera House presents Jig-A-Jig-Jig
Newfoundland dance, folk song and original songs delivered with zest and infectious energy.

(Halifax Chronicle Herald)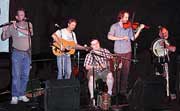 Get ready for a toe-tapping, knee-slapping good time at Jig-A-Jig-Jig; the latest show in the Sydney Opera House Babies Proms series.

Presented by contemporary Canadian folk group
A Crowd of Bold Sharemen
, Jig-A-Jig-Jig dares you to keep still! Hear this ensemble of roaring boys from the island of Newfoundland perform a dynamic range of powerhouse folk music, including ballads, folk tales, rousing jigs, reels and polkas.
Their infectious energy, chorus of hearty voices, together with the beat of the bodhran and the sounds of button accordions, fiddles, flutes, whistles and mandolins, will have you kicking up your heels and swinging your skirts.
Together, multi-instrumentalists Jim Payne, Fergus O'Byrne, Gerry Strong, Daniel Payne will perform in Sydney as part of a National folk festival tour.
Jig-A-Jig-Jig is the perfect introduction to traditional folk music for two-five-year-olds (and their parents and minders!).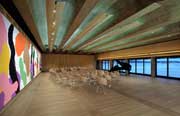 The newest venue at the Opera House, the Utzon Room, is now the home of the 2005 Babies Proms season. Come and experience this season of stimulating, diverse and quality performing arts events in the glorious surrounds of the only Sydney Opera House interior designed by its original architect, Jørn Utzon.
Season
Tuesday 15th March at 11am and 12noon
Wednesday 16th - Sunday 20th March at 10am, 11am and 12noon
Venue
Utzon Room
Sydney Opera House
Tickets
All tickets $15 ($10 each for childcare groups)
Bookings
(02) 9250 7777 or sydneyoperahouse.com